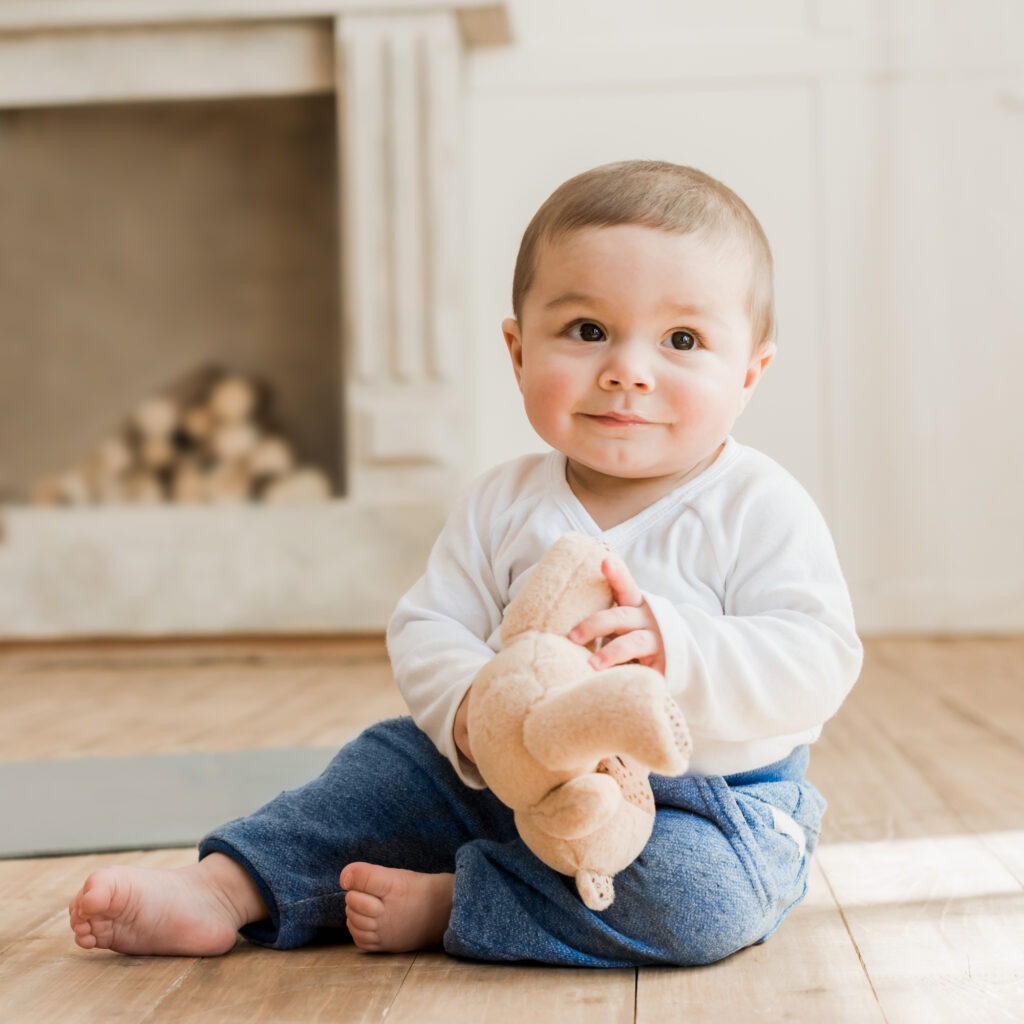 You're in the home stretch of your baby's first year. Maybe you've managed to get your 11 month old sleeping through the night and are excitedly planning their first birthday party when BAM their sleep takes a turn for the worse. All of a sudden, your 11 month old is refusing naps, fighting bedtime, or waking up at night. What the heck just happened?!
Could your baby be going through the 11 month sleep regression? Or is it something else like separation anxiety, ready for 1 nap a day, or teething that's disrupting their sleep?

Don't worry, I've got you covered! As a baby sleep consultant for the last five years, I've learned how to survive sleep regressions and get your baby sleeping great again.
This article explains all you need to know about the 11 month sleep regression (also called the 11 month nap regression) and exactly how to get through it.
This post may contain affiliate links.
RELATED: My Best Sleep Tips for 11 Month Olds
What is a sleep regression?
Baby sleep regressions are temporary disruptions in sleep caused by developmental changes. Simply put, when your baby goes through big developments (like walking or talking) their sleep temporarily worsens or "regresses" before it gets better again.
At 11 months old, your baby is probably working on milestones like crawling, standing, and maybe even taking their first steps. There's also cognitive development occurring too like imitating movements or gestures, developing language like "mama" or "dada", and beginning to understand that you exist even if you're not in the same room.
You can read more specifics on 10-12 month old developmental milestones here.
It takes a tremendous amount of physical energy and neurological activity for our babies to master physical and cognitive milestones. And it's normal to see another aspect of development get disrupted in the process.
Related: How to Stop Co-Sleeping
Signs of the 11 month sleep regression. And how long will it last?
A telltale sign of the 11 month sleep regression is nap refusal. In fact, I call it the 11 month nap regression, because over the years I've found that the main struggle at this age is an 11 month old who is fighting naps or just won't nap in general. (See the next section for tips on this nap regression.)
Other signs of the 11 month old sleep regression are:
Your 11 month old is not sleeping through the night anymore.

Your baby is suddenly refusing to sleep or crying uncontrollably at night.

Your little one has started waking up again at night, sometimes crying every hour (leaving you to wonder if it's teething, hunger or separation anxiety causing this.)
I typically give regressions two weeks to "run their course" then it's ok to begin sleep training. At this point, many of your baby's sleep patterns will be turning into habit so it's a great time to actively help your baby start sleeping well.
My 21 Days to Peace & Quiet program shows parents how to get their little ones sleeping through the night. You can also check out my sleep training program for naps here, that guides you through teaching your baby to take long and restful naps everyday (so YOU can get some downtime during the day.)
Is there an 11 month nap regression?
Oh yeah mama, there is one! This is one of the most popular topics with clients in my sleep training program. What's so unique at this age is that we often see a nap-specific regression at 11 months old (that I don't see at any other age.)
When their baby starts refusing naps, many parents assume their 11 month old is ready for 1 nap a day. But let me assure you, they aren't! The typical age to drop to one nap is 14-18 months, and this guide explains when and how to transition to one nap.
Your 11 month old is fighting naps because they need longer awake times and slight changes to their schedule. Your next four months should be focused on helping your young toddler take two naps a day.
Although they may nap well the first few days of having only one nap, the long awake times catch up with them and we often see disruptions in night sleep and early wakings appear.
What else could be worsening my 11 month old's sleep?
Apart from developmental changes disrupting your baby's sleep, there can be other factors that come into play at this age. Everyday I hear from parents of 11 month olds struggling with separation anxiety, who wake up crying every hour at night, or who wake early in the morning. Let's discuss each of these.
Separation anxiety
Separation anxiety in 11 month olds is common and completely normal. You'll notice that your little one suddenly freaks out when you leave the room, or clings on to you when you try putting them in the crib. This separation anxiety often surfaces when it's time to sleep. Just when you're ready to call it a day, your baby starts crying uncontrollably at bedtime, leaving you both exhausted.
Although it can be tiring physically and emotionally, separation anxiety is a healthy response to our little one's development. The more our children learn and grow, the more their world changes. And as they sense these changes it's normal for them to want to retreat back to the security of their parents.
For example, your 11 month baby is probably learning to crawl, stand, or even walk. They're now able to do new and exciting things and see the world from a different perspective.
While this is a natural and positive change, it can also feel scary and overwhelming for our little ones (even subconsciously.) So they become extra clingy or fussy. They need their "safety net" of parents close by in order to get through this period of change.
Your little one will go through separation anxiety on and off throughout their life. But, rest assured, it's totally normal and it will pass with a little extra patience, love and attention. You can read more about separation anxiety here.
Early wakings
Waking throughout the night with a fussy baby is exhausting. But there's a whole new level of exhaustion when your baby wakes at 5 am ready to start the day.
If your baby waking too early in the morning is your main struggle, you may not be going through a sleep regression. Here's my guide on early wakings and how to get your baby sleeping later in the morning.
Baby wakes up crying every hour
If your 11 month old is waking up crying every hour throughout the night, you both need to get some rest ASAP!
If this is a new development, it could be related to the 11 month sleep regression. But if your baby has been waking this often for many weeks (or more) then chances are that it's due to habit.
Quite often, we parents help our babies fall asleep before we put them in the crib. Rocking, holding, and nursing are natural and normal ways to soothe our little ones. And they work well with young babies.
However, after the age of 5 months, most babies are ready to sleep independently, and when they do they sleep better.
If you're still helping your baby fall asleep each night, don't feel bad. All parents do this at one point or another!
It's important to know that when you help your baby fall asleep, they'll also need your help to fall back to sleep every time they wake up at night. It's the only way they know how to fall asleep!
This is when sleep training comes in handy, and you can choose the best sleep training approach for your baby in my sleep training program here.
Tips for surviving the 11 month sleep (and nap) regression
Now that you've learned all about this regression, it's time I give you my best tips on getting through it. Helping babies learn to sleep well is a cumulative effort, so make sure you're doing all of the tips below, everyday.
To get ALL of my best sleep tips for 11 month olds, check out this article.
(Click to see the tips)
Start a relaxing routine
Sleep regressions make our little ones feel restless and wired, so a relaxing routine done before sleep can help take the edge off, so your baby can settle easily and sleep well.
Starting a consistent bedtime routine has been proven to help children fall asleep quicker and wake less often at night. (It also has been shown to improve maternal mood, but that's no surprise!)
Certain activities have been shown to relax babies, and when done in the right order, it sets your baby up for sleeping great at night.
My Exhausted Mom's Starter Kit walks you through the steps of setting up the perfect routine for your baby. You can do it before naps and nighttime sleep.
Stick to a consistent bedtime
Irregular bedtimes lead to poor nighttime sleep. When it comes to baby sleep, consistency is key. The more consistent your baby's bedtime is, the better they will sleep at night.
Also, babies sleep best with earlier bedtimes, even though it feels counterintuitive. I've found in my years of helping thousands of parents that the ideal bedtime lies between 6:30-7:30 pm. That's the general bedtime range you can choose from.
Once you've settled into a specific bedtime, make sure it doesn't vary by more than 15 minutes each night. For example, if you've settled on a 7 pm bedtime, your baby's individual bedtime should only vary between 7-7:15 in order to help them sleep consistently well.
Focus on nights first
Even if your 11 month old's main struggle is refusing naps, you should first take a look at their night sleep. When helping babies sleep well, we always focus on nights first. How you handle bedtime sets your baby up to sleep well at night… or not!
Make sure your baby goes into the crib awake at bedtime and falls asleep on their own. If they aren't able to do this, and you're in the throes of the sleep regression, a few nights of comfort might be needed. But after that, sleep training is the answer.
Sleep training is the process of teaching your baby to sleep independently and through the night. When babies can settle themselves to sleep, they sleep deeper and longer.
Many parents are hesitant to sleep train because they associate this with the Ferber Method, or Cry It Out.
While these approaches do work for some families, my sleep training program 21 Days to Peace and Quiet offers parents a variety of methods to choose from and guides them through choosing the best sleep training method for their baby.
My goal is for you, your baby, and your entire family to be well-rested and happy together. But you need to do it on your terms! If you're ready to get your baby sleeping through the night (which 11 month olds can definitely do) join me here and let's do it together.
Stick with two naps a day
Once nighttime sleep is going smoothly, it's time to focus on naps. Since the 11 month sleep regression usually affects naps, we need to put some focus here.
What's most important is keeping your baby well-rested during the day. Remember, you want to keep your 11 month old on two naps and wait until they're 14-18 months old for the 2-to-1 nap transition.
Your baby's awake times should be 2.5-3.5 hours. That's the amount of time they are awake between sleeps. Staying within this range keeps babies well-rested, which can improve their sleep overall.
As with nighttime sleep, when your baby sleeps independently for naps, they will nap consistently well everyday. Teaching your baby to fall asleep on their own at nap time helps extend short naps and gives your 11 month old the 2-3 hours of naps they need everyday.
At this point, you may be helping your baby nap to keep them well-rested, and that's ok. But once your little one is sleeping through the night, you should start nap training. Your baby will need to nap for the next 2-3 years, so teaching them how to nap well everyday really pays off!
Here's my step-by-step nap training program that gets babies taking long, restful naps every day.
Help your baby practice new milestones
Throughout the day, take time to allow your baby to practice their new skill. Are they crawling or walking? Clear off the floor and give them space. Are they standing? Set up some sturdy chairs or baby proof the coffee table and let them go for it.
The more your baby practices their new skill during the day, the sooner they'll master it. This way, they'll be more relaxed when it's time to sleep, and less wired generally.
Create downtime for yourself each day
It's really important that you take care of yourself at this time. Your baby is going through a pretty intense nap regression, and truth be told, it can get really exhausting.
Consider if there's anyone you can ask to watch baby for even just 20 minutes, whether they're awake or napping. Is there a neighbour you could ask? Grandparents? Your partner?
Getting someone to help you out, even for 20-30 minutes can really relieve some stress and tiredness. Soak in a hot bath, have a peaceful meal, or take a short walk. If possible, just ignore your phone for a little while and focus on YOU. You deserve it!
Remember that it's temporary and focus on the good stuff
Remember, I give sleep regressions two weeks to wreak their havoc. That's it! So feel free to post a countdown on your fridge and don't suffer longer than you need to.
It can also help to focus on the milestones your little one is mastering. Hearing your baby repeat new words or seeing them stand up on their own for the first time can help relieve any stress or exhaustion you feel from your 11 month old refusing to nap or waking every hour at night.
Keep yourself and your baby as well-rested as possible
During a recent sleep regression with my son, I was going to bed at 8:30 pm every night. My 6 year old made fun of me, but I didn't care. It made waking up at 5 am much more bearable. I also made sure to lie down when he napped.
Even if only for 20 minutes, getting horizontal and relaxing made getting through the rest of the day feel easier.
Begin sleep training
Coming off of a helluva sleep regression can be just the motivation parents need to make things right with their baby's sleep.
At 11 months old, your baby CAN learn to fall asleep easily on their own and sleep all night. You just have to show them how. The effort you put in here will lead to years of blissful sleep. Let me show you how in my sleep training program here.
Sleep regressions are no fun, to say the least. I've just gone through a big one with my toddler who is learning to walk. The best ways that I found to survive it (when up at 5:10 am with a boisterous 15 month old) are to remind myself that it is temporary, focus on the adorable new milestones my baby is reaching, do the best I can to keep us both well-rested and know that in two weeks' time we could get his sleep back on track with sleep training. (Which we did!)
Tip: my brand new 'Sleep Regression Survival Guide' explains exactly what to do to help your baby sleep well during a regression. It has proven tips that help each sleep regression pass as quickly as possible. It also explains the best ways to ease your little one's separation anxiety and tells you what to do when your baby is standing or sitting up in the crib, instead of sleeping!
It's totally free and you can get it here.
Reach out in the comments if you have any questions!