Let's Get Your Baby Sleeping All Night & Waking Later Every Morning…


Do you feel drained, overly emotional & irritable on a daily basis?
Are you anxious at bedtime, worrying about how much you'll be up at night?
Is your marriage strained, because you have no energy for each other?
Do you get frustrated or impatient with your baby because you feel like you never get a break?
Do you wish you had more energy to play, go to fun classes or trips to the park?
Sound familiar?
I get it… I've been there and it sucks.
Since then, I've personally helped thousands of exhausted moms, just like you, get the sleep, energy & happiness they desperately needed.
Want to know how?
Introducing…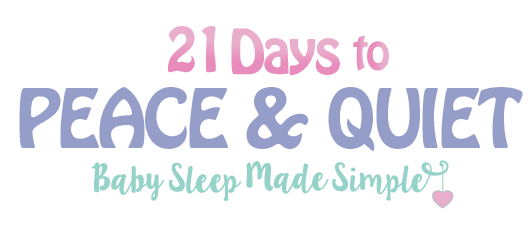 A Proven, Step-by-Step Guide that Helps Exhausted Moms Get Their Little Ones
Sleeping Well.
So they can get their energy back & start enjoying all the little things!

Can't I Find All The Info I Need For Free Online?
There are plenty of websites, blogs and online forums ready to offer you free advice.
The trouble is, many moms find this advice to be confusing, contradictory or laced with judgment.
Imagine if a medical professional (& Mom) handed you a simple & consistent plan to put your baby to sleep –
that Dad, grandparents, & babysitter can do.
And this plan was matched with your baby's temperament, your parenting beliefs & it got your baby sleeping all night long.
Imagine That!!
You'd have the energy to exercise and cook healthy meals
You'd feel connected with your husband again
You'd feel like you were on top of it all & you'd enjoy your days
You'd have enough energy to play with your baby
You'd Have Time To Yourself!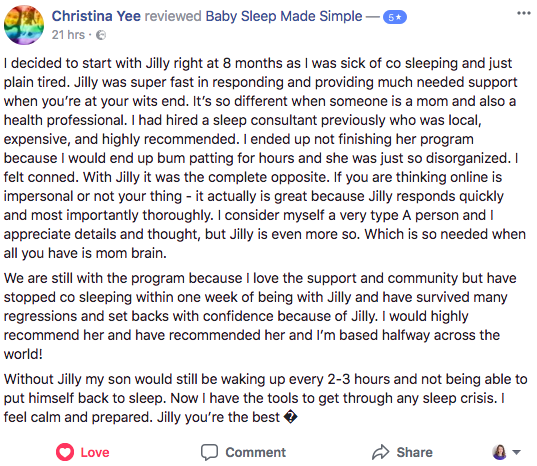 I've been there Mama…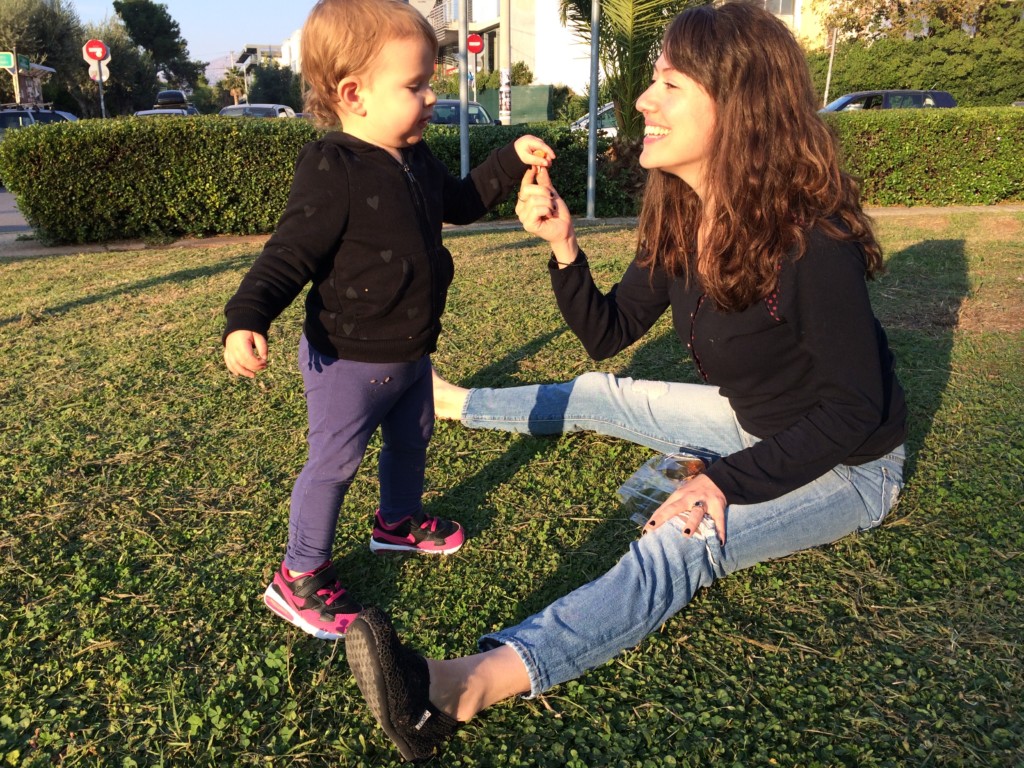 My baby would ONLY fall asleep by nursing or rocking, then I had to ninja her into her bed.
She'd wake the second her body touched the bed, and I had to do it all over again.
This whole process took about an hour. I tried putting her down "drowsy but awake" but she just screamed.
Then she would wake every 1-2 hours, all-night-long. Sometimes, it took over an hour of rocking and nursing to get her back to sleep.
I'd pull her into my bed (& send my husband to the sofa) when she was hard to settle after 4 am.
She wanted to nurse continuously.
Being kicked in the ribs by my co-sleeping baby meant I barely slept. I actually googled "How much coffee can the human body handle?"
Then, one November morning I hit the wall. I woke up drained, hopeless and sad.
At that moment, I decided that I had to get my baby sleeping.
I pooled my knowledge as a Neonatal Nurse and Lactation Consultant, and I started slowly. Focusing on one step at a time. Each step extended her sleep stretches. First, a 4-hour stretch. Then 6 hours. Then 8!
As I slept better, I began to figure out how all the pieces come together to help babies sleep well.
After several weeks of sleeping through the night, I told my husband "I've cracked the code!"
I had created a method to get my baby sleeping through the night that worked with her sensitive & affectionate temperament.
My first degree is in Psychology. Personality fascinates me. I began helping other sleep-deprived moms and I saw first-hand how much temperament and energy levels affect sleep habits.
Strong-willed, Energetic, Sensitive, Determined, Clingy, Fussy. No matter the temperament. They all started sleeping through the night.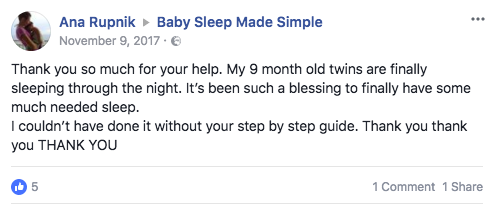 How Can You Guarantee That This Will Work? What If It Doesn't?
Great question.
For the last ten years, I've helped exhausted parents, get their energetic, intense, sensitive, strong-willed and easy-going babies sleeping through the night.
Those years taught me that there isn't one way to help all babies. Moms need options.
Inside 21 Days to Peace & Quiet, I offer 4 different pathways for you to choose from (from super gentle & gradual to quick & efficient.)
Each step of the way you get advice based on your baby's developmental stage, energy levels, and temperament.
Only a very small proportion (like 3%) don't get the results they want. And when I follow up with them, they tell me it's because they couldn't stay consistent or agree.
To put your mind at ease, and because most of us parents have limited resources, I'm offering a 30-Day 100% Money Back Guarantee. There's no reason to not try it out!
In this gentle & effective program you'll: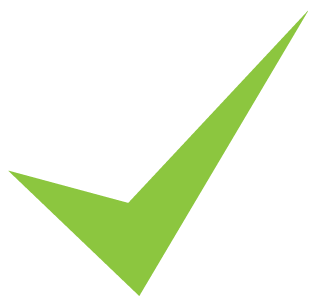 Get the support you need! If you opt for the Personal Support Package, you can post a question anytime in our private Facebook group. Jilly responds providing specific and personalized advice based on your situation (once each week.) And our warm, supportive Mom Community is there to help out 24/7.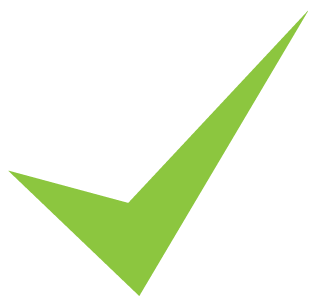 Get ONE-YEAR ACCESS to all videos, guides & resources! You can revisit important videos whenever you wish, and get up-to-date recommendations as your baby grows.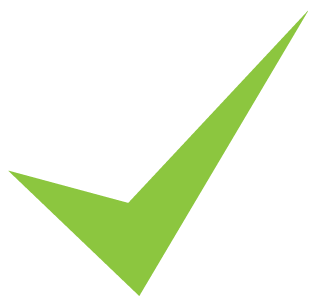 Discover a caring and attentive approach for turning your baby into a great sleeper, that's 100% safe and in tune with your parenting philosophy.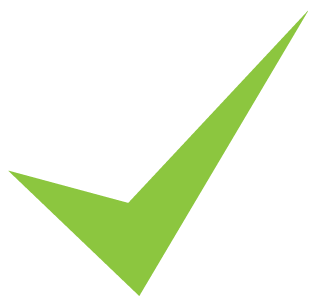 Never leave your comfort zone. Jilly provides a range of methods and you choose the approach that's best for your family.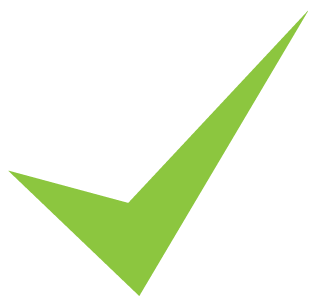 Each method contains step-by-step nightly guides that walk you through the exact steps of what to do, when & how!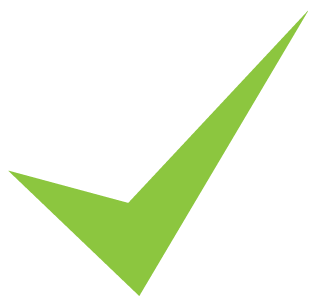 Discover what you can naturally do during the day to encourage your baby to sleep longer at night.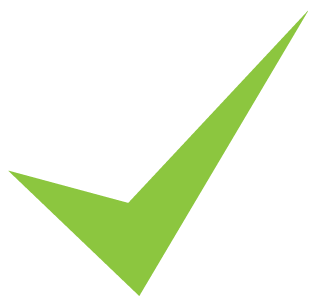 Find out the 2 GAME CHANGERS for getting your baby to sleep all night & later every morning. They're simple to implement but the effects are powerful!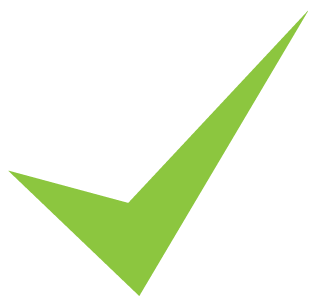 Discover how you might be unintentionally sabotaging your baby's sleep, leading to more night wakings!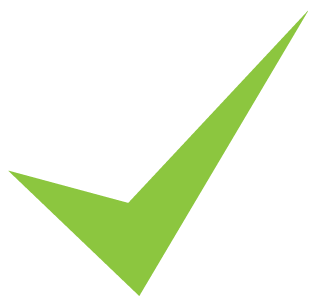 Discover the 3-step method for Cracking the Code on Night Feeds, and find out if your baby still needs night feeds or is ready to sleep all night.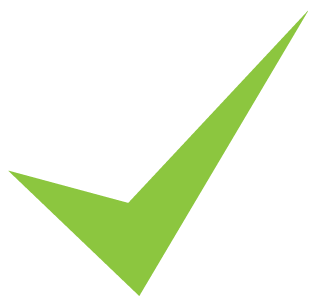 If your baby still needs a night feed, you'll learn exactly how you can keep it short & sweet!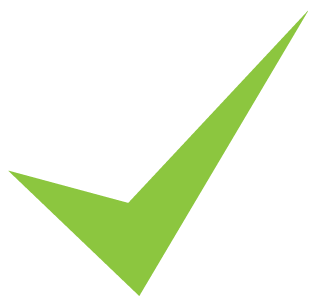 Get an easy-to-follow day/night routine– ensuring your baby's growth and development are optimized.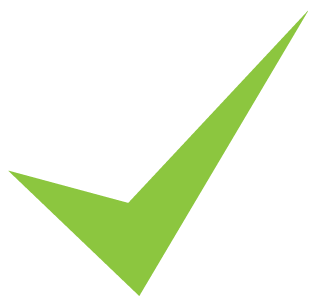 Overcome every parent's biggest worry and find out exactly how you can keep your baby safe while sleeping.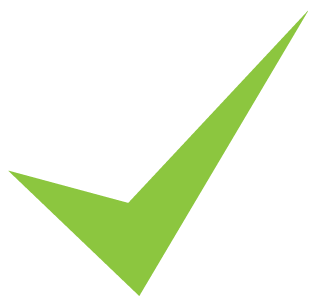 Learn the best ways to minimize guilt & worrying so you can successfully teach your baby to sleep better.
How it works: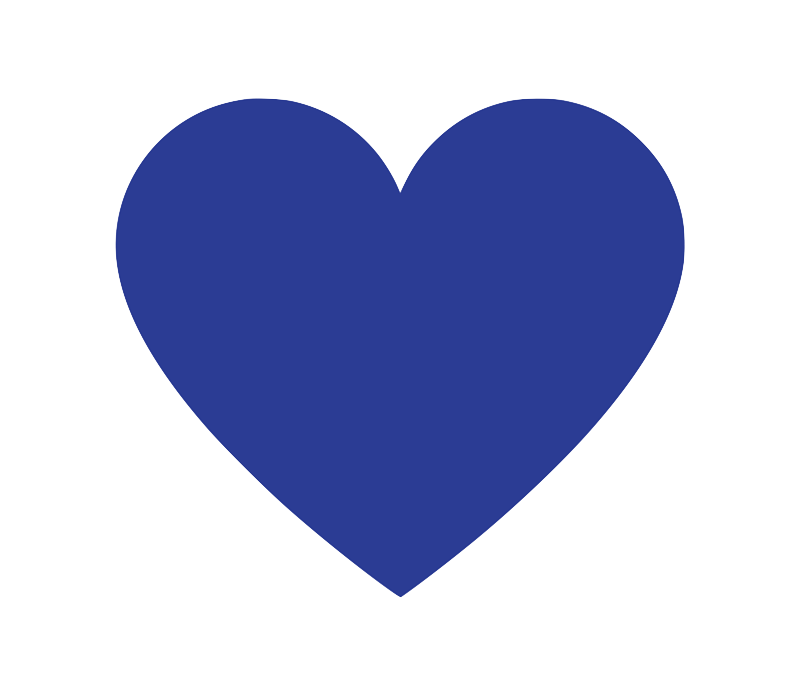 You get 7 online lessons that walk you through the natural sequence of teaching your baby to sleep through the night. Simple, baby steps. We do it all together.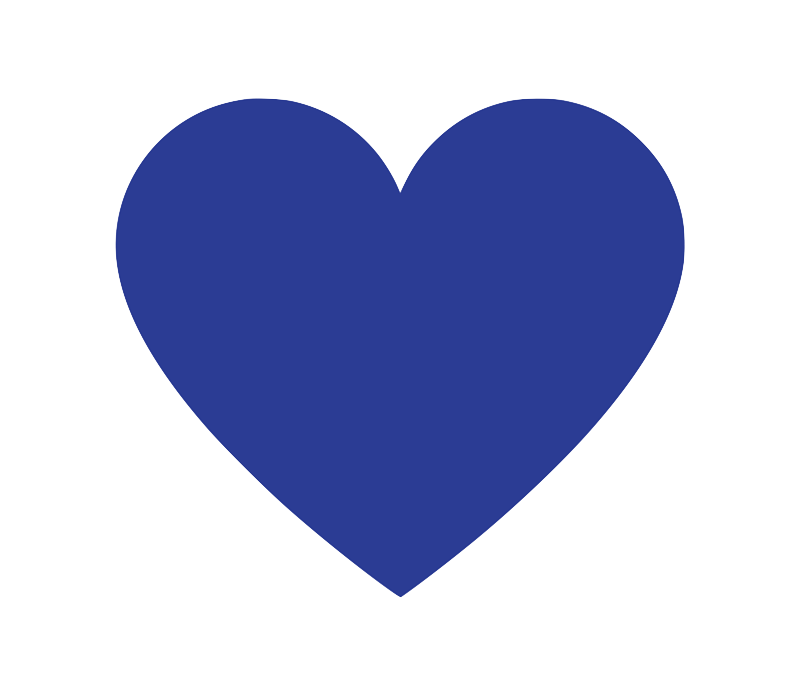 Each lesson has short videos and visual guides (like the Exhausted Mom's Survival Kit.)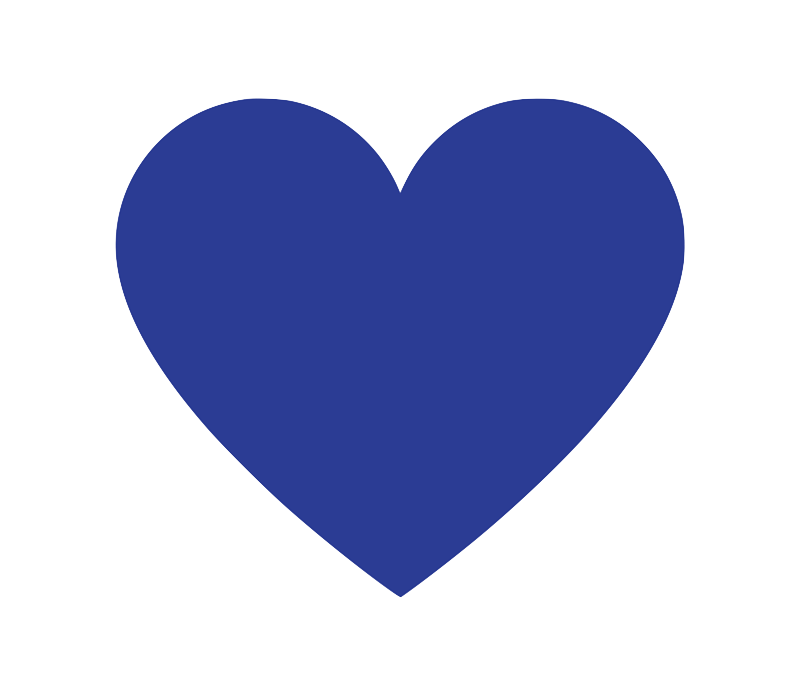 Connect with Jilly & other moms in our private Facebook group where you can ask questions anytime. Plus get tips, motivation & support.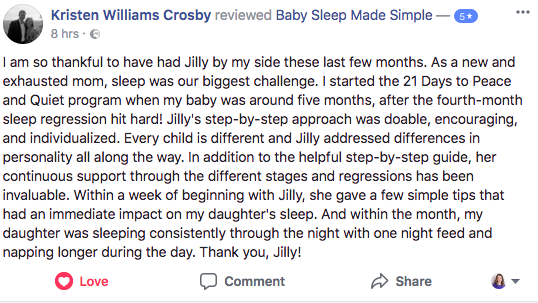 There are two ways to get your baby sleeping well at night


Have No Plan
Search through Google, Pinterest & Youtube, pulling together tips from multiple sources (with differing opinions.)
Try to organize these tips into something that makes sense (in 6 minute sessions while your baby naps on you.)
Post questions online and pray that an expert answers them in detail right away.
Or read a 300-page book.

Let an Expert Help You
Receive a simple step-by-step guide that's based on your child's age, development, unique temperament & is in tune with your beliefs.
Get all your questions answered along the way (in our private Facebook group.)
Keep this guide to use long-term.
I hear you.
All you want is to get your baby sleeping longer at night in a way that doesn't stress your baby or induce tons of Mom guilt.
With 21 Days to Peace & Quiet, you can get the long, restful sleep you need without compromising anything.
21 Days to Peace & Quiet with Support Package
ON SALE
7 proven steps that walk you through teaching your 5-24 month old to sleep all night.
Plus, all your questions answered! Jilly & her Support Team give personalized advice 5 days/week inside our private Facebook group.
You get 30 DAYS ACCESS to our Facebook support group (& long-term access to the sleep training program.)
21 Days to Peace & Quiet
Do-It-Yourself Package
One Year Access to all guides, videos, resources.
7 proven steps that walk you through teaching your 5-24 month old to sleep all night.
DOES NOT include any support or messaging with Jilly.
Frequently Asked Questions
Who is Jilly?
Hi, I'm Jilly. My life as a Mom, Neonatal Nurse and Lactation Consultant led me to create Baby Sleep Made Simple. Because getting your little one to sleep doesn't have to be complicated or stressful!
I've helped thousands of exhausted Moms all around the world get their babies sleeping well, so they can get their energy back and start feeling like themselves again. So they can enjoy all the little things with their families. I'd love to help you, too.
Let's Get You & Your Baby Sleeping So You Can

Be the Mom You Want to Be

!