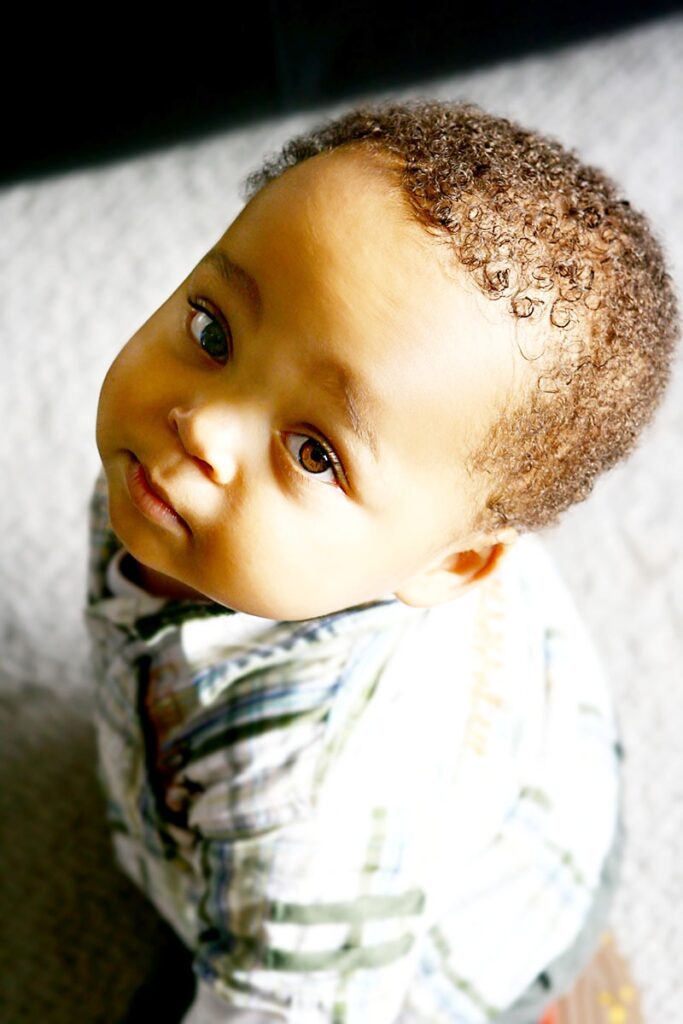 7 months is an age filled with developmental bursts. Your 7 month old may be scooting, rolling, or pulling to stand. He's probably laughing, babbling non-stop or clearly saying mama or dada. He may have started pointing and realizing that his favorite toy still exists even when it's out of sight (object permanence.)
But lemme guess… your 7 month old suddenly won't sleep? He's started waking up at night, fighting bedtime, or won't nap. That's because he's so busy working on new milestones everyday, and it's a lot for his brain to process! This is what the 7 month sleep regression is all about.
The good news is that this regression is temporary. With the right approach, you can get your baby through this rough patch and sleeping well. This article will explain what the 7 month sleep regression is, and how you can beat it and get your baby sleeping great.
This post may contain affiliate links.
RELATED: Sleep Training Methods Explained
7 Month Sleep Regression Causes
Sleep regressions are sudden disruptions in your baby's sleep that seem to come out of nowhere! It's when your 7 month old suddenly won't sleep. Period.
These disruptions come at predictable times because they're associated with developmental milestones. Pediatric expert Dr. Berry Brazelton explains that a surge of growth in brain development that happens during a developmental milestone (like learning to roll) often coincides with another part of development slowing down or regressing (like sleeping.)
So, what's causing this regression in sleep is a milestone he's working on- like rolling, standing or talking. It's hard for your baby's brain and body to "shut off" when he needs to sleep. Instead, he can't settle easily or wakes often.
Any search of online baby forums shows that Wonder Week Leap 5 happens around this age and is especially difficult. Sleep issues pop up, baby may refuse milk or be clingy and grumpy. These sleep issues are all because of your baby's development. So it's a good thing, but still exhausting for everyone. The rest of this guide will show you how to get your 7 month old sleeping great during this regression.
Sleep Training Your 7 Month Old: 7 Essential Tips

#1: Know what you can expect of your baby's sleep
Bedtime
Bedtime for your 7 month old should be between 6:30-8 pm. This is the time that suits most babies' body clocks.
Try to keep baby's bedtime within a 20 minute range every night. Early risers should have bedtime of 6:30 pm, and late risers can have bedtime closer to 7:30-8 pm.
Night Sleep
Your 7 month old should sleep 11-12 hours at night.
Night feedings
Your 7 month old may be able to sleep through the night without feeding, or she may need one night feed.
Her growth and weight gain patterns will determine if she still needs to feed at night. It's best to ask your baby's doctor if night feeds are still needed.
Naps
Your 7 month old should sleep 2-3 hours during the day, usually divided between 2-3 naps.
Total sleep in 24 hours
13-15 hours. It's ok if your baby sleeps a bit more.
Related: How to Stop Co-Sleeping
#2: Wake your baby at the same time every morning
I may sound insane recommending you wake your baby up, especially after a rough night. I get it. But this simple sleep training trick leads to more predictable days, which a lot of moms crave.
If your baby's morning wake time varies by 1-2 hours everyday, then nap times and bedtime will too. This makes it hard to make plans, run errands and settle into a peaceful evening routine. So if you're desperate for a more consistent sleep schedule for your 7 month old, do yourself a favor and set your alarm each morning.
The best time to wake your baby each morning should fall right in the middle of his typical wake times.
Write down the time your baby naturally wakes in the morning for the next 7 days. Then pick the time that falls right in the middle of this range. That's your new wake up time!
#3: Follow awake times
"Awake times" are simply the periods of time that your baby is awake throughout the day. (For example, in between naps.)
Recommended awake times for a 7 month old are 2-3 hours.
If awake times are too short, your baby may not be tired enough and ready to sleep.
If awake times are too long, your baby may become overtired or overstimulated, which makes it very hard for her to settle for sleep.
Making sure your baby sticks to the recommended awake times, and naps every 2-3 hours, is a great sleep training tip to help baby nap longer.
Watch your baby for sleepy signs like slowing down, "zoning out," or losing interest in her toys and in you. She may get fussy, withdraw, or rub her eyes. When you see these signs 2-3 hours after being awake, let your baby sleep.
Craving some routine, mama?
Want to get several example daily schedules that you can download & save? Ones that meet all of your baby's sleep, feeding & playtime needs?
My Daily Schedules guide covers 5 months – 4 years old!
#4: Feed your baby often during the day
Growth spurts make your baby hungrier, night and day. And they usually coincide with sleep regressions.
If your 7 month old suddenly wants to eat more one night, let her. But make sure to feed her more the following day too. You may offer feeds more frequently or a larger volume at each feed. This helps her get the extra calories she needs to fuel this growth spurt, but aims to keep the majority of these feeds happening during the day. So she can sleep longer at night!
#5: Start a relaxing bedtime routine
The best way to set your baby up to sleep well at night is to start a relaxing bedtime routine.
The purpose of a bedtime routine is to calm your baby in the evening, so that his body can relax and welcome sleep. Certain activities have been proven to relax babies, and when done in the right order, it sets your baby up for sleeping longer at night.
The simple act of doing a bedtime routine each night helps babies fall asleep easier and sleep longer overnight. Plus, it's a great time to bond with your little one everyday.
My Exhausted Mom's Starter Kit walks you through the exact steps of setting up a peaceful bedtime routine with your baby, at any age. You can start all tips tonight!
RELATED: Find Out When Your Baby Is Ready To Drop the 3rd Nap
#6: Create a sleep-friendly space for your baby
The best sleep training trick that will help your baby sleep better right away is to create a sleep-friendly environment for your baby. With just a few tweaks to your baby's bedroom, your LO can sleep longer and deeper just overnight!
My Exhausted Mom's Starter Kit walks you through exactly how to adjust your baby's bedroom to welcome sleep. I've got my 3 best tips for sleep in there (including creating a bedtime routine), and you can start all of them tonight!
#7: Get your baby sleeping longer stretches at night
Once you have the above steps in place, it's time to get your baby sleeping longer stretches at night.
Feeding or rocking your baby are natural and gentle ways to help him fall asleep. If you nurse your baby to sleep, and he sleeps well at night, you don't have to change anything!
It's only when 7 month olds are waking twice or more every night that I suggest parents get their babies falling asleep on their own.
When your baby can go into the crib awake and settle himself to sleep, without any help from you, he'll start sleeping long stretches. This is because he'll be able to resettle himself during the night if he wakes and isn't hungry. This is the basis of sleep training.
At 7 months old, most babies need either one quick night feed or they can sleep through the night without feeding. The best way to wean your baby's night feeds is to teach him to fall asleep on his own. If he stirs during the night, but isn't hungry, he'll put himself right back to sleep. If he's hungry, he'll call out for you.
I often see babies go from waking 7 times a night to only once just by learning to settle themselves to sleep. It's pure magic!
My sleep training program walks you through teaching your baby to fall asleep without any help and sleep all night!
How to get your baby falling asleep on his own
The trick is to make sure your baby's eyes are open when he goes into the crib. He needs to "be aware" of the fact that he's in the crib and falling asleep there. That way, when he wakes later in the night, nothing about his environment will have changed. He's used to settling himself to sleep, so he'll easily do it again.
Some parents give lots of hands-on comforting to help baby accept falling asleep in the crib. You can pat, rub or stroke baby so he can fall asleep. It's ok to pick him up briefly if he gets really upset. Each night focus on helping him a little less, so he can learn to do this on his own.
Sleep training your 7 month old can take anywhere from 3 days to a few weeks to achieve. All sleep training methods work, as long as parents are consistent.
Bonus Sleep Training Tip for 7 Month Olds
"Do I have to wean my baby off the pacifier?"
If you can offer the pacifier to help your baby fall asleep and she doesn't need you to replace it during the night- keep it!
But, if you're having to replace the pacifier several times a night, that's a sign that baby is dependent on the pacifier to fall asleep. In this case, you have 2 options:
Option A: Sprinkle 5 pacifiers around baby's crib when she goes to sleep.
That way, she can easily find one in the night. This option works once your baby can easily reinsert the pacifier by herself, which usually happens around 7 months.
In order for this to work, you have to stop putting the pacifier in baby's mouth for her. Instead, each time she wants it (day and night) you put it in her hand and help her replace it by herself. Many days of doing this will teach her how to do it all by herself!
Option B: Wean your baby off the pacifier as a sleep aid.
If baby can't (or won't) replace the pacifier by herself during the night, and it's causing her to wake constantly, it's time to wean off it.
You can still offer the pacifier during the day when she's awake or for comfort when she's sick.
One last tip!
My brand new 'Sleep Regression Survival Guide' explains exactly what to do to help your baby sleep well during a regression. It has proven tips that help each sleep regression pass as quickly as possible. It also explains the best ways to ease your little one's separation anxiety and tells you what to do when your baby is standing or sitting up in the crib, instead of sleeping!
It's totally free and you can get it here.
Implementing the tips from this guide should get your 7 month old's sleep on track. And make sure to check out my new Sleep Regression Survival Guide above.
Good luck!