This is a guest post by Elizabeth from SimpleTenderJoyful.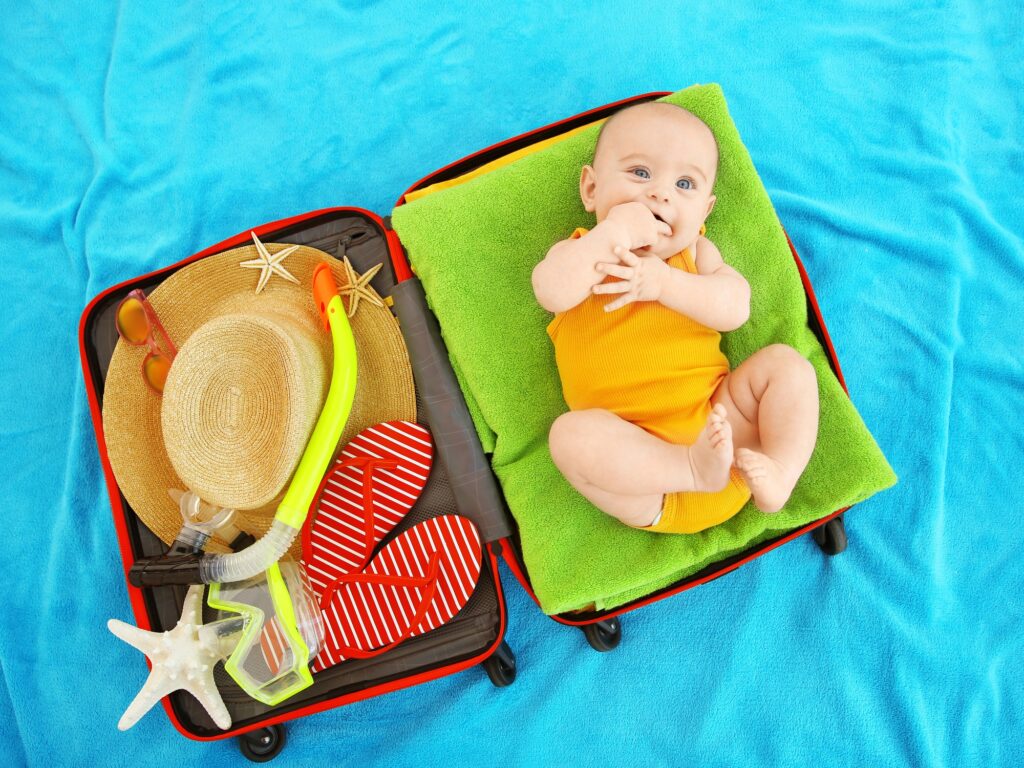 Your first flight or road trip with your baby can be scary, I know.
But having flown dozens of times with my 2 kiddos under age 5, I have good news for you. Flying (or driving) with an infant is honestly not that bad. You just need to be prepared and have the right mindset.
There are a lot of ways to make your trip easier. And that's what this article will share with you. (Plus a few things you should never do.)
These tips on baby travel essentials and the best baby travel products will help you enjoy traveling with your baby.. rather than wishing you'd stayed home!
This post contains affiliate links.
Your Ultimate Guide To Traveling With Babies & Toddlers
The Good News About Traveling With Baby
The best part about traveling with a baby is that babies are (usually) pretty adaptable. Really!
As long as you provide the essentials — a quality sleep environment, regular meals, lots of cuddles — most babies barely seem to notice their change in environment.
Additionally, a lot of babies find car or plane trips very soothing, and can (sometimes) sleep through the majority of the flight or drive.
I was insanely nervous for my first flight with my 10-week-old baby. Obviously, I was ridiculously overpacked. We could have been stranded in the airport for a week and we would have been fine.
Luckily, despite all my worries, my baby slept nearly all of the 5-hour flight! It was the most peaceful flight I've ever had with a child. And it laid the foundation for a life of travel for our family.
Lessons Learned from Traveling With Babies
The second time I flew with my baby, we forgot to bring her ID and they wouldn't let us board the flight. (Lesson learned: Bring baby's ID, even for domestic flights.)
Then there was the time I flew alone with my toddler while I was 14 weeks pregnant with violent morning sickness. The flight was delayed five hours and I spent the entire time chasing her around the airport. (Lesson learned: Bring a toddler leash. #noshame)
Or the time I dangled my breast over the car seat to feed my baby rather than getting caught in a blizzard somewhere between Lake Tahoe and Salt Lake City?(Lesson learned: Get comfortable with public nudity, breastfeeding mama.)
I guess you could say that I'm something of a baby travel expert.
Or perhaps, a case study in What Not To Do.
Let my mistakes be your guide. After four countries, two kids, and more planes, trains, cars, and ferries than I can count, I can confidently say that I've got this travel-with-baby thing figured out.
General Tips for Traveling With Baby
How Soon Can I Travel With Baby?
It's best to avoid traveling until your baby has their first round of vaccinations (about 6-8 weeks). This protects your newborn from germs in the airport, and from the new people and places that you visit.
You should also delay travel until you've recovered from birth. You don't want to be lifting luggage 3 weeks after a c-section!
How Can I Keep My Baby Healthy While Traveling?
Nothing puts a damper on vacation more than a sick baby.
First, I recommend baby-wearing as much as possible. (Tip: Wear your baby facing inward.) This deters curious strangers from touching baby's cheeks or hands, potentially spreading unwanted germs.
Second, Lysol and anti-bacterial wipes are always on my baby travel essentials list and in my carry-on. I have no shame about sanitizing my baby's eating and sleeping surfaces on planes. The nods of approval from flight attendants tells me the tray tables and arm rests are very rarely cleaned.
How To (Quickly) Sanitize Your Airplane Seat
When flying with a baby, always take advantage of pre-boarding. This gives you time to set up and clean your area.
Quickly spritz the seatbelt and other fabric areas (the seat cushion and the floor) with Lysol. Then, use antibacterial wipes to disinfect the tray table, seat belt buckle, armrests and window (you never know what your baby will lick!)
Pack a Mini First Aid Kit
Being an ER nurse, I like to be prepared. I recommend packing a mini first aid kit in your luggage, which should include:
Trust me, you want to have the essentials when it's 2 am and your baby wakes up with a fever.
Baby Sleep Essentials While Traveling
The same principles that help your baby sleep at home will help them sleep while traveling.
Set up your baby's sleep space to mimic their sleep area at home.
Darken the room. A dark blanket tucked into a curtain rod can provide an instant black-out. Or use clips to hold together curtains that tend to gape. You can also bring

these lightweight blackout film

s for the windows.
Use baby's familiar sleep props (sleep sack, swaddle, pacifier, etc.)
Also, be sure to examine the area closely to make sure baby can't reach any dangling cords or electrical sockets.
Do your best to stick to your regular sleep schedule. This may mean you plan driving time between sightseeing to coincide with nap time. Or schedule family downtime every afternoon back at the hotel while baby naps.
Prepare an "On-the-Go" Baby Sleep Bag
Most babies can handle an occasional late bedtime to accommodate a special event. But for long-term travel, try to stick to your typical sleep schedule.
What helps my family of four maintain good sleep while traveling is to bring a tote bag with on-to-the-go sleep supplies (portable white noise, baby monitor, Pack n Play, pajamas, sleep sack.)
That way, we can set up a sleep space at grandma's without feeling rushed to get back for bedtime.
What Time of Day Should I Travel With Baby?
Honestly, don't spend too much time stressing about the perfect time of day to travel with your baby. Babies are more adaptable than we give them credit for. Plus, the high cost of air travel means most of us parents don't have much control over our flight schedules.
The one thing I focus on is arriving at my destination with enough time to settle my baby and have a normal bedtime routine.
For example, my baby's bedtime is 7 pm.
So, I want to arrive at the hotel by 5 pm to have time for dinner, bath, set up baby's sleep space, and say goodnight in a leisurely way.
To accomplish this, I count backward. How much time do I need to pick up our luggage, get the rental car and drive to the hotel? That's when I want my flight to arrive.
The same principle works for car travel.
When we moved from DC to Boston, I knew that the drive would take 8-10 hours. We planned 12 hours of travel time to allow us enough time to eat meals, stretch our legs, and respond to any baby cries. That meant we needed to leave at 5 am to allow enough time to settle in before bedtime.
This works like a charm, every time.
What About Switching Time Zones?
When traveling only 1-2 hours difference in time zones, don't worry too much about shifting baby's schedule.
For example, when we fly to see family (one hour ahead of us), I simply put baby to bed at 8 pm instead of 7 pm.
But, if you're traveling with your baby or toddler across many time zones, then it's absolutely worthwhile to change your baby's schedule gradually.
It takes about one day per hour of time difference to acclimate. In other words, you'll need roughly one week to transition to a 7-hour time difference.
To help your baby acclimate, expose them to late afternoon sunlight to help reset their circadian rhythm. And watch their daytime sleep carefully so they don't try to make up for missed nighttime sleep during the day.
See Jilly's 3-Day Guide on Surviving Baby Jet Lag Here.
Most importantly, try to keep a sense of humor. The acclimation process doesn't last more than a few days (sometimes a week.) You will survive, I promise!
Tips for Car Travel With Baby
I would choose car travel with a baby over flying with a baby, any day. First, you can stop whenever you like. Hungry? Need to stretch your legs? Poop explosion? Just pull over at your nearest McDonald's. Easy peasy.
Plan extra stops into your itinerary
While many babies will happily sleep through a long car trip, you still want to plan for extra stops.
Plan about 1 extra hour for every 4 hours of drive time with a baby. Lunch stops take longer when you need to nurse or change an outfit. And you usually need to stop every 2 hours so everyone can stretch their legs (and parents can caffeinate!)
Should we leave early in the morning? Or drive through the night?
Personally, we prefer leaving early in the morning since baby is still sleepy. You can get in a few hours of driving before breakfast!
Also, I prefer sitting in the back seat entertaining my baby during a daytime drive than dealing with a fussy, tired baby that can't sleep during a night drive.
Driving through the night can also be dangerous for the driver, who is likely to be sleepy. First things first – take care of yourself so that everyone gets to their destination safely.
Also, having young infants sleep in car seats for extended periods of time may result in low oxygen levels.
How to entertain baby in the car
Babies don't need special toys or games for car travel. Honestly, most toys will be thrown to the ground within minutes. You don't want to spend the entire drive retrieving toys from under the seat! (Particularly if you're driving solo.)
Instead, make a music playlist for your road trip. Make sure to include calm, soothing music for nap time and fun dance music to sing along to when your little one starts getting restless.
Sometimes I distract my little ones by rolling the windows down. The sound and feel of fresh air soothes them and snaps them out of restlessness.
Snacks during car trips
Avoid giving snacks or meals while driving, unless there is an adult sitting next to the baby to watch for choking.
Babies should be rear-facing until they max out the height and weight limit of their car seats. (Until age 2, if possible.)
If your toddler gets "hangry" and you'll can't yet pull over, give a pouch to tide them over. Older toddlers can eat meltable baby puffs, which are relatively safe.
But that said, you should still be monitoring them and there should be an adult who can watch the child while they have their snack.
What to Pack When Flying With Baby
In case you're making a baby travel essentials checklist these are some of the best baby travel products (and personal favorites).
Items for Carry-on:
Items to Include for Mom:
Snacks




Phone charger




C

hange of clothes (at least a shirt — trust me, you'll want to freshen up if baby vomits on you or dumps their milk all over your lap.)




Plastic bags (for soiled/wet clothes)




Headphones




M

agazine or small book
Items for Packed Luggage:
Enough c

lothes to cover several days until you have access to laundry

Travel crib – I love the Guava Lotus

Survival Tips for Flying With Baby
There are many ways to make flying with a baby easier.
If your budget allows, I highly recommend booking a seat for your baby and bringing their car seat. Especially if you're flying alone with baby. Otherwise, you'll never be hands-free.
If available, book the bulkhead seats. I've gone back and forth on this over the years, since you don't always have a place to put your bag when you're in the front row. But the extra legroom makes up for this inconvenience. Plus, you get a mounted bassinet for long-distance travel.
If possible, schedule take-off around baby's nap or bedtime. If your baby manages to sleep (just a little) they'll be rested and calm when you're going through baggage claim or racing to catch your next flight.
How to manage the security line. Getting through security is one of the trickiest parts of air travel with a baby. Getting the diaper bag, purse, stroller, car seat AND baby through security can be a lot to handle.
First, don't panic. Everyone behind you can wait, so take your time.
If I don't have the car seat with me, I bring a lightweight baby carrier. I LOVE my Maya Ring Sling because it's easy to put on and it packs down super small.
I wear baby while I get through the security line and then quickly hold baby while we walk through the metal detector. Baby goes right back in the carrier while I re-assemble all our stuff. Whew!
I recommend using a backpack instead of a traditional diaper bag. I bring my normal purse with the essentials (changing pad, snacks, a toy, small pack of wipes) and the rest goes in the backpack. Once I'm on the plane, I put the backpack in the overhead bin and keep my purse at my seat.
This system allows me to have a normal purse for outings and the backpack keeps my hands free and allows me to carry back-up supplies. It also doubles as a daypack for hikes or long sight-seeing days, so it's a win-win. To see exactly what are the baby travel essentials that I pack in my carry-on when I fly, see my post on flying with toddlers.
Definitely bring the stroller. If you also bring the car seat, this is an easy choice — bring the stroller too! Travel system strollers make it so easy to take your car seat right to the plane. Plus, I love having a safe place to put baby while I use the restroom in the airport or haggle with the gate agent about an upgrade. ?
The stroller also carries your bags during layovers, and is a napping station for baby while waiting for your next flight.
If you don't bring your car seat, then I highly recommend bringing an umbrella stroller that you can close with one hand.
We like our Maclaren Quest umbrella stroller because I can close it with one hand while balancing the baby on my other hip. Plus, it has a tether strap so I can sling it over my shoulder. And it's lightweight and suitable for newborns. It's a great stroller for day trips where you'll be taking busses or metros.
For babies over six months, I've heard great things about the Pockit stroller. And I drool over it whenever I see someone using it.
I recommend visiting your local baby store to try out a few different models and practice closing the stroller while you're holding the baby. See which works best for you.
x
What if I need to breastfeed on the plane?
Then breastfeed! If you're uncomfortable, throw your muslin swaddle blanket over your shoulder.
I worried a lot about this in the beginning, but once my baby started fussing, I stopped caring about the guy in the business suit next to me. His reaction is his problem, not mine. (Remind him that he was probably breastfed…)
Nursing comforts your baby, particularly during take-off and landing when the elevation change can cause ear discomfort. (Sucking helps clear the pressure in baby's ears, like chewing gum for us). Plus, your baby needs to eat! You can do it mama, I promise.
How to Entertain Baby on a Plane
I don't bring a lot of toys and activities for plane trips. Too much hassle.
I bring a tiny pack of stickers, stacking cups, one book with touchable features (think Pat the Bunny), and a tiny stuffed animal for make-believe play. All of this packs down into a single ziploc bag. If I can't easily fit it into my purse, then I don't bring it.
Instead of toys, I entertain baby with finger plays, storytelling, peek-a-boo, and other games. It's really not that hard to entertain a 1 year old on a plane. You just have to be creative.
I don't pack any other toys in my luggage, as there are always plenty of new items to explore wherever we're staying. (Like Auntie's puppy or a box of tissues at Grandma's house).
What To Do If Baby Cries On The Plane
First, don't sweat it. Babies cry. Then, take your time using your normal soothing techniques — a snack, distraction, swaddling, a pacifier or the breast, or walking the aisle.
Most people are kind and understanding. The rest are jerks and they aren't worth your time.
Hotel Tips When Traveling With Baby
When I travel with my babies, I go to great lengths to find hotels with a suite. Better yet, I book an AirBnb so we have the whole house. When you have a baby that goes to sleep at 6 pm, it can be really rough on the parents if you're all sleeping in the same room. And older kids with later bedtimes provide even more of a struggle.
I know suites are more expensive, but it is so worth the price. And remember, this age doesn't last forever!
If you can't find a suite or Airbnb within your budget, get creative with baby's sleeping space. We've used closets, bathrooms and spare offices to create a dark, quiet sleeping area. Just make sure there's good airflow.
If the weather is warm, consider booking a room with a balcony or a garden area (for the adults, not the baby!) Then the adults can sit outside and talk at a normal volume instead of tip-toeing around in silence.
If you have a baby monitor with good Wifi, you can put baby to bed in the hotel room and then head to the hotel lobby to relax. With a little ingenuity, you can create a safe and quiet baby sleep space just about anywhere!
I have relied on the hotel's crib on a few occasions, and without fail, they've been dingy and dirty. I absolutely love our Guava Lotus travel crib. It packs down super light, it's easy to assemble, and it even has a bassinet insert for newborns. It's so lightweight that it's easy enough for c-section mamas to move around the bedroom. Trust me — this is one baby item that is worth every penny.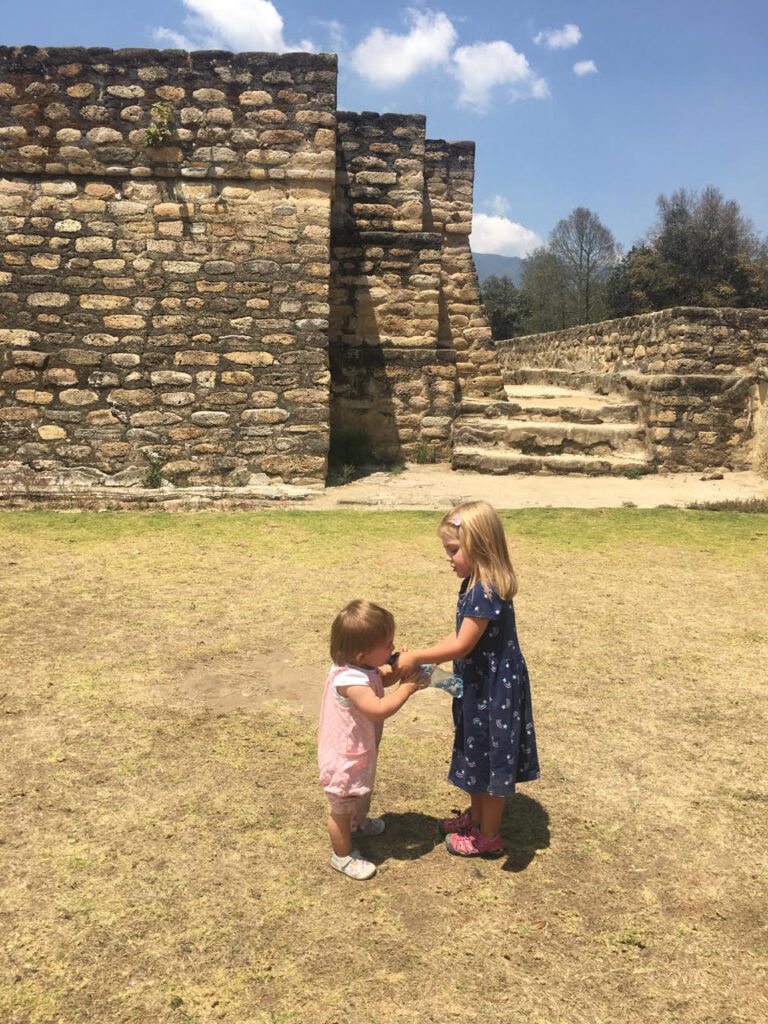 I absolutely love traveling with my kids. While my little ones may not remember exactly which countries we visit or what sites we see, travel helps them become more open-minded and flexible.
When they grow up playing tag among ancient Mayan ruins or spending time exploring local artisan markets, they grow up knowing that the world is big and beautiful and wondrous.
We are a family who travels. By extension, our kids are growing up as little world explorers. With that in mind, the only question is — where do we go next?
Author Bio:
Elizabeth provides motivation and inspiration to families who are interested in worldschooling and learning through travel. She is a former ER nurse who now blogs about homeschooling, intentional living, parenting, and life overseas on her website, www.SimpleTenderJoyful.com.
Elizabeth is a "trailing spouse" who currently lives in Guatemala City with her Foreign-Service husband, her four-year-old, and her one-year-old baby. In her free time, Elizabeth enjoys reading sci-fi novels until the wee hours of the night and going on potentially ill-advised road trips with her kids.