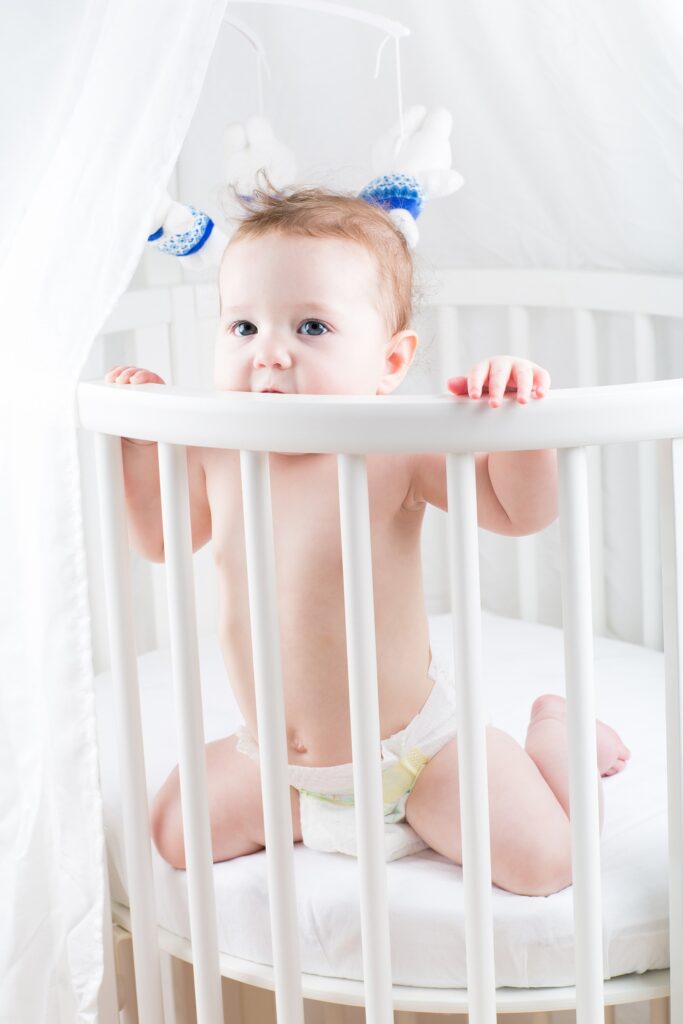 Here's an ugly truth of parenting that no one tells you until you're in the "new baby club." Babies like waking up early in the morning! And by early I mean 6-7 am.
In your former childless life, waking at 7 am may have felt cruel and unusual. But now that you're several months into parenthood (or longer) you'd kill to get up at 7 am everyday! The only problem is your baby is waking at 5 am.
One of the most common questions I get from exhausted parents is "How can I get my baby to sleep past 5 am?" And that's a reasonable request. Getting your baby sleeping until 8 am everyday isn't so reasonable.
And that's because babies naturally love early bedtimes and early mornings. I know, it's hard news to take. But the sooner you accept it, the sooner you can move forward with realistic expectations.
To be clear, let's define night wakings as any waking before 6 am. And consider an "acceptable" morning wake up time to be anytime after 6 – 6:30 am.
After many years helping tired parents get their babies sleeping great, I have a few tricks up my sleeve to help your stop baby waking at 5 am. Consider this to be your definitive guide to stopping your baby waking up too early in the morning.
This post may contain affiliate links.
How To Stop Your Baby Waking Early in the Morning!
Tip #1: Create a sleep-inducing space
Tip #2: Find the ideal bedtime
Tip #3: Prevent overtiredness at bedtime
Tip #4: Avoid too much (or too little) daytime sleep
Tip #5: No morning nap before 8 am.
Tip #6: Teach your baby to fall asleep independently
Tip #7: Allow no fun before 6 am
Tip #1: Create a sleep-inducing space
The first tip I give parents when it comes to getting later morning wake-ups is to make changes to their baby's bedroom. There are many factors that could be waking your baby up early, and a big one is their sleep environment.
I go through exactly how to create a sleep-inducing space for your little one in my Exhausted Mom's Starter Kit. You'll get all the details & best tips on what to do with your baby's bedroom. Best of all these tips are super simple and you can start them TONIGHT.
So many parents message me after the first night of following the tips in my Exhausted Mom's Starter Kit and tell me that their baby slept 1-2 hours later in the morning!
Tip #2: Find the ideal bedtime
Everyone has an innate bedtime that works best for them. This bedtime is based on their circadian rhythm or the 'body clock.'
When bedtime is in tune with your baby's natural desire to sleep, she will accept sleep easier because her body is ready for it. Working with families for many years has taught me that babies sleep deeper and longer at night when bedtime is early.
Many parents think that a late bedtime will result in their baby waking up later in the morning. That may work for us adults, but it doesn't for young children. In fact, it backfires!
Forget everything you know about sleep. Baby sleep is counterintuitive. What works for us adults doesn't work for babies. That's because they're wired differently. Children with late or inconsistent bedtimes sleep worse at night and wake earlier in the morning!
Let's clarify what "bedtime" means. Bedtime is the time that your baby actually falls asleep.
It's not when you go into the bedroom to start your bedtime routine, and it's not when you place your baby in bed.
Bedtime is the time your child actually falls asleep.
In general, 6:30-7:30 pm bedtime works best for babies and toddlers.
Tip #3: Prevent overtiredness at bedtime
Your baby has a biological need to sleep often. I talk a lot about "awake times" when helping babies learn to sleep well. Awake times are simply the amount of time your baby is awake between sleeps.
The reason why awake times are so important is that they prevent your little one from becoming too overtired. Many parents think an overtired baby will fall asleep easily and sleep later in the morning. But remember, baby sleep is counterintuitive!
An overtired baby fights sleep, wakes more often and wakes earlier in the morning. (I've seen it hundreds of times.)
To prevent overtiredness at bedtime, make sure your baby's bedtime is both age-appropriate (from #3 above) and their awake times stay within these recommendations.
Awake times for all ages are:
Newborn: 30-90 mins
7-15 weeks: 1-2 hours
4-5 months: 1.5-2.5 hours
6-8 months: 2-3 hours
9-12 months: 2.5-3.5 hours
Toddler taking 2 naps: 3-4 hours
Toddler taking 1 nap 4-5.5 hours
*For example, your 7 month old's bedtime should be no later than 3 hours after waking from their last nap.
This video explains how to stop your baby from waking at 5 am!
Tip #4: Avoid too much (or too little) daytime sleep
Don't let this overwhelm you, but your baby needs to nap "just the right amount" of hours everyday so he can sleep well at night (and later in the morning.)
If your baby doesn't nap well during the day, he'll be overtired at bedtime. And we learned in tip #4 that an overtired baby will continue waking early in the morning.
On the flip side, if your baby tries to catch up on lost sleep and sleep most of the day he won't be tired enough to sleep past sunrise.
So make sure you baby's total combined nap hours fall within these recommendations:
0-2 months: See my sleep guides for newborns and 2 month olds.
3-4 months: 2.5 – 4 hours
5-12 months: 2 – 3 hours
For toddler recommendations, see my guide on toddlers waking early.
Tip #5: No morning nap before 8 am
A baby that wakes at 5 am is usually ready for a nap by 7 am, right? The problem with super early naps is that they reinforce early wakings. And this keeps your early waking vicious cycle going.
You need to gently push your baby's sleep schedule later, and part of this is avoiding naps before 8 am.
We do this slowly to give your baby time to adapt. If your baby's first nap usually falls before 8 am, start moving the nap later by 15 minutes every 2 days until you get to 8 am.
This may make baby's first awake time of the day be longer than recommended. So keep all other awake times within the acceptable range from tip #4 above.
Your baby will be tired, especially if she's been awake since 4 am. But this subtle shift in the timing of naps helps baby's body clock adapt to waking later.
Tip #6: Teach your baby to fall asleep independently
The way that your baby falls asleep at bedtime is the way she needs to fall back to sleep each time she wakes at night.
This is the basis of sleep training. Once your little one can go into the crib awake and fall asleep on their own (without your help or presence) she''ll be able to resettle herself back to sleep each time she stirs during the night.
And remember, any waking before 6 am is a night waking.
The trouble with babies waking too early (4-6 am) is that it's much harder for them to fall back to sleep at this hour. Sleep is lightest at this time of the night, and even if you try the "usual tricks" of feeding, rocking or holding, your baby may not be tired enough to fall back to sleep.
Your presence and comforting may actually backfire and end up energizing your baby at that dreadfully early hour.
There's good news, though. Once your baby knows how to fall asleep on her own (and does this every night at bedtime and for any night wakings) it becomes much easier for her to resettle herself at 4-5 am.
In fact, most parents I work with tell me their baby's early wakings disappeared once their little one was falling asleep independently every night.
Let that motivate you to start sleep training and get your baby falling asleep independently! (If you'd like my help and a step-by-step guide on this, you should join us in 21 Days to Peace & Quiet.)
Here's one critical tip to ensure you do this right. Your baby's eyes should be open when she goes into the crib to settle herself to sleep. If she's too drowsy, it simply won't work.
Tip #7: Allow no fun before 6 am
Let me just say, there is zero judgment from me if you pull baby into your bed or play cartoons at 5 am. I know how it feels to be desperate for just 30 minutes more sleep.
But here's the thing. Babies can't tell time. So if your little one gets used to nursing, coming into your bed or screen time during early wakings, he will continue waking early. In fact, most babies start waking at 4 am. Then 3 am. Then midnight, and crying until parents give in out of desperation.
As you may have guessed, the way to fix this is to treat a 5 am waking the same way you treat a midnight waking. You wouldn't take baby out of the crib, make a coffee and start your day, right? So don't do this at 5 am either.
It can be difficult the first few nights of making new changes, but it's imperative you treat ALL wakings before 6 am as night wakings.
If your baby doesn't get fed during the night, don't start feeding at 5 am. (Especially if your baby never falls back asleep after this feed.)

If your baby falls asleep on his own during other parts of the night, don't start helping him back to sleep at 5 am.

If you don't play cartoons at 2 am, then don't play them at 5 am either.
Babies need consistency. It's the only way they learn and adapt to new sleep routines. When your baby understands that every night waking results in the same outcome (baby stays in bed and fall back asleep) then he'll adapt and comply!
So remember, zero fun before 6 am.
Tip #8: Rule out hunger
Most parents assume their baby is hungry when they wake at night. And many times, your baby is hungry when she calls out during the night.
But if your baby is 6 months or older (and your doctor is happy with growth and weight gain) you can consider weaning off night feeds. (Here's my step-by-step guide on reducing and weaning night feeds.)
Older babies are able to take in all their necessary nutrition during the day. You just have to pay attention and feed your baby often.
My simple rule is to feed your baby (milk, solids or a snack) every 2-3 hours all day long. When you focus on maximizing daytime nutrition, you can feel confident slowly weaning off night feeds.
Think of it as redistributing your baby's calories so that she eats more during the day, and less overnight. But she still eats the same amount in a 24-hour period.
Always check with your baby's doctor to see if night weaning is right for your baby. And if you get the "go ahead", start night weaning with this guide.
Stopping your baby's early wakings requires that you make sure their bedroom is sleep-friendly. It also involves tweaking your baby's sleep schedule (making sure bedtime is appropriate and naps are sufficient.) You'll also have to stop certain activities (like bed-sharing and screen time at 5 am) and start new routines (like teaching your little one to fall asleep independently.)
Taking 1-2 weeks to start these necessary steps will result in your baby sleeping later in the morning. Who knows, you may even have to start setting your alarm clock again!