How To Get Your Newborn On A Sleep Schedule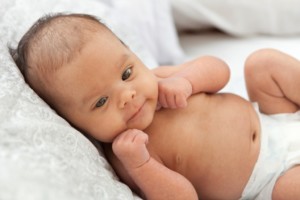 Congratulations! Your newborn has arrived and you've been getting to know each other for a few days or weeks now. You love the way he feels and smells. In fact, everything about him is adorable. But everything might also seem a bit scary. Especially how to get your newborn on a sleep schedule. (And whether he even needs one!)
Common concerns newborn moms have include whether swaddling is necessary, how to prevent SIDS, symptoms of colic, if it's ok for baby to sleep on their chest and what the heck is "the witching hour?"
The questions are endless, because everything is new! Don't worry, mama. I got you covered.
The truth is that your newborn won't have consistent sleep patterns like older babies. He's not developmentally ready for that just yet. But there's plenty you can do to help baby sleep well.
This article will give you all the essential tips & tricks to get your newborn baby sleeping well, day and night.
This post may contain affiliate links.
x
Newborn sleep schedule – What to expect

x
For newborns, sleep is pretty unpredictable. That's the unfortunate truth. Your newborn's body clock hasn't developed, so he doesn't understand the difference between day and night yet. It's also normal for some of his sleeps to be long, and others really short.
In a time filled with such uncertainty, one thing's for sure. Starting your newborn on a loose schedule (or routine) will help this phase go so much easier for you.
Routines give parents peace of mind. Let me explain- once your baby is on a fairly consistent daily routine you'll know how to decipher his cries. If he recently ate but is fussy, he must be tired or gassy. If he recently slept, you'll know he's hungry, etc…
The best way to help your newborn fall into a predictable sleep schedule (as soon as he's developmentally ready) is to follow the tips from this article.
x
Newborn sleep tips

x
How To Avoid Day/Night Confusion

Your newborn's circadian rhythm starts developing during the first three months of life. This is your baby's "body clock" and it's what causes her to sleep more at night and less during the day.
Much of this development is pre-programmed, but there are certainly things you can do now to help your baby establish healthy night sleep patterns. You can start the following tips as soon as your baby is born!
x
Is this normal newborn fussiness or colic or the "witching hour?"

Many newborns go through a period of increased fussiness. This often happens around the same time each day (usually evening.) This fussiness can start at 2-3 weeks old and peak around 6 weeks. It's also called the "Witching Hour."
Sometimes it's caused by a growth spurt. Your baby fusses because he's hungry and wants to feed often. Other times it's caused by cognitive development. Your baby is becoming more aware of his world and taking in more. But, by the end of the day he's overwhelmed and overstimulated and can't help but have a meltdown. His neurological system is still immature and it's difficult for him to process so much stimuli from his new world.
Colic is different than normal newborn fussiness. Colic is often diagnosed by the "rule of three." Your baby cries for at least: 3 hours each day, 3 days per week, for 3 weeks. (Pass the wine, please!)
It's important to rule out other causes of discomfort or crying in your newborn, so speak to your pediatrician if you're concerned.
Pediatrician Dr. Harvey Karp has helped thousands of parents learn how to calm their crying babies, using a the 5 S's method he developed. These 5 S's are Swaddle, Side-Stomach Position, Shush, Swing, and Suck.
What's causing my newborn's fussiness?

"Witching Hour"
⇒ Baby is fussy only at certain times of the day, otherwise she's fine.
What to do:
⇒ Cluster feeding, baby wearing, skin-to-skin, strolling, quiet & dark room, try the 5 S's.
How long?
⇒ Typically lasts a few days/weeks.
Schedule Issue
⇒ Baby is fussy all day. Grizzly, grumpy, cries throughout the day.
What to do:
⇒ Follow awake times & make sure baby sleeps every 30-90 mins.
How long?
⇒ Typically resolves immediately.
Colic
⇒ Baby cries at least 3 hours per day, 3 times per week, for 3 weeks.
What to do:
⇒ Cluster feeding, skin-to-skin, tummy compress, white noise, 5 S's, sling, massage, warm bath.
How long?
⇒ Typically resolves around 3-4 months.
Want a Step-by-Step Guide on Avoiding Common Breastfeeding Problems?
This info-packed, easy-to-follow online course walks you through all the essentials!
Learn pro tips for latching, positioning and pumping. Plus, how to know if your baby is getting enough milk
And it has exclusive discounts on breastfeeding supplies!
x
Can I prevent SIDS?

Follow me on