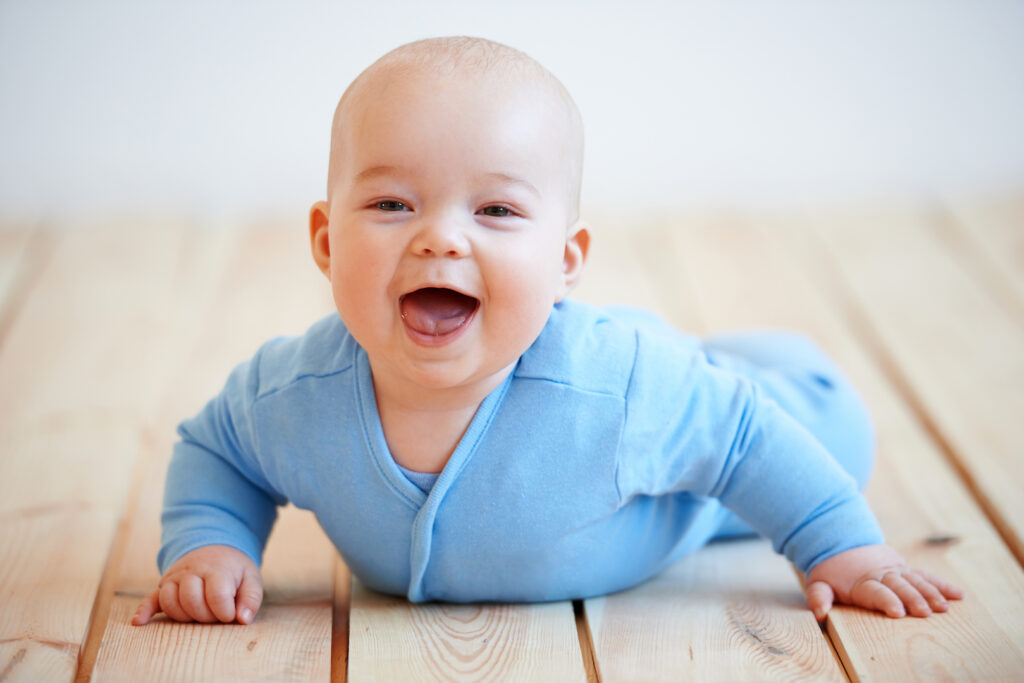 Your baby's fifth month is typically filled with giggles, rolling over and lots of babbling. That's the cute stuff. But let's be honest. It can also be an exhausting, sleepless time.
Many people will tell you that your baby can sleep through the night at 5 months old. The truth is, some babies naturally do this and many others need to be taught.
If your baby isn't on the path to naturally sleeping through the night- and you can't cope with her countless night wakings- don't worry. These 7 sleep training tips will get your 5 month old baby sleeping better at night.
This post may contain affiliate links.
RELATED: My baby stands (or sits up) in the crib and won't sleep!
Sleep Training Tips for Your 5 Month Old Baby
Have realistic expectations
Your 5 month old's bedtime should be between 7-8:30 pm. He should sleep 10-12 hours overnight (with some night feeds.)
Ask your doctor how many night feedings your baby needs. This will depend on your baby's individual growth and weight gain, but most 5 month olds still need 1-3 night feeds. Once your doctor gives you a clear expectation of nighttime nutrition, you know what you can realistically expect.
For example, if your pediatrician says your baby can go 6 hours between feeds overnight, you can wean down to 1 night feed. Or, if your doctor recommends feeding every 4 hours overnight, you can wean down to 2 night feeds. Check out my guide on Weaning Night Feedings here.
It's important to keep your 5 month old well-rested during the day. Short naps can be common at this age, so don't worry if your baby only naps for 40 mins. What's more important is to let him nap often.
Your 5 month old baby should have awake times of 1.5 – 2.5 hours throughout the day. Longer awake times can over-tire baby, which worsens overall sleep.
This video has more 5 month old sleep tips.
Start a calming bedtime routine
When starting sleep training, we always begin at bedtime. The best way to set your baby up for sleeping long stretches at night is to begin a calming bedtime routine.
This routine relaxes your baby, so that her body can welcome sleep. Certain activities have been proven to relax babies, and when done in the right order, it sets your baby up for sleeping longer at night.
x
Get a step-by-step guide on creating a calming bedtime routine in my Exhausted Mom's Starter Kit.
Set an age-appropriate bedtime
In order for your 5 month old to fall asleep easily and sleep well at night, bedtime must be age-appropriate and consistent. Most 5 month olds are ready for bed between 7-8:30 pm.
Try to keep your baby's bedtime within a 20 minute range every night. So, if your baby's ideal bedtime is 7:30 pm, make sure she's asleep each night between 7:20 – 7:40 pm. It makes a big difference!
Create a sleep-friendly space
This is my number one tip for parents who want their babies to sleep longer stretches. With only a few tweaks to your baby's bedroom, you can give them an environment that helps them sleep better! It's amazing!
Get ALL the details inside my Exhausted Mom's Starter Kit. It explains my top three tips that will improve your baby's sleep, starting tonight! These tips are super simple to implement, and highly effective.
Help your baby nap frequently
When beginning sleep training, we focus on night sleep. Otherwise you'll end up with a cranky and exhausted baby day and night!
So while you focus on nighttime sleep training, it's ok to help your baby nap. "Whatever works" is our motto.
Naps in the crib tend to be the best quality sleep. But it's ok to use motion to help your baby nap too. Your 5 month old can nap in the stroller (lying flat) or baby carrier while you wear them- as long as you supervise these naps. If it helps your baby nap longer, go for it!
Most 5 month olds take 3-4 naps everyday. But remember that number of naps isn't what's important.
Instead, staying well-rested take priority over number of naps. So make sure your baby naps every 1.5-2.5 hours all day long and gets 2-3 total hours of daytime sleep.
Craving some routine, mama?
Want to get several example daily schedules that you can download & save? Ones that meet all of your baby's sleep, feeding & playtime needs?
My Daily Schedules guide covers 5 months – 4 years old!
Teach your baby to fall asleep on his own
The way that your baby falls asleep at bedtime is the way he needs to fall back to sleep each time he wakes at night.
We all wake throughout the night, it's completely normal. We just don't remember it because we can easily put ourselves back to sleep.
If you feed your baby to sleep at bedtime, he'll need you to help him fall back asleep each time he stirs during the night. You probably already know this, because you're up feeding your baby 5 times a night!
When your baby can go into his crib awake, and fall asleep without your help- he'll be able to resettle himself throughout the night. And he'll only wake when he's truly hungry. (This applies to breastfed and formula fed babies.)
The big question is "How do I do it?!"
The truth is, there are many sleep training methods that are effective for 5 month olds. But, the best sleep training approach is the one that's suited for your baby's temperament, his age and your parenting style.
In my program, 21 Days to Peace and Quiet, I help parents choose the best sleep training method for their baby. Some babies are better suited for gentle sleep training. While others respond better to quick methods. In my program, I help you pick the best approach for your little one.
One last thing…
It's ok if you feel overwhelmed and frustrated with your baby's sleep. It's completely normal for parents of 5 month olds to feel this way! Life with a new baby is exhausting on most days. Just remember, there's always hope.
Once you start these 6 sleep training tips, and do them consistently everyday, your 5 month old will start sleeping amazingly well!
x