How To Survive the Holidays Without Wrecking Your Baby's Sleep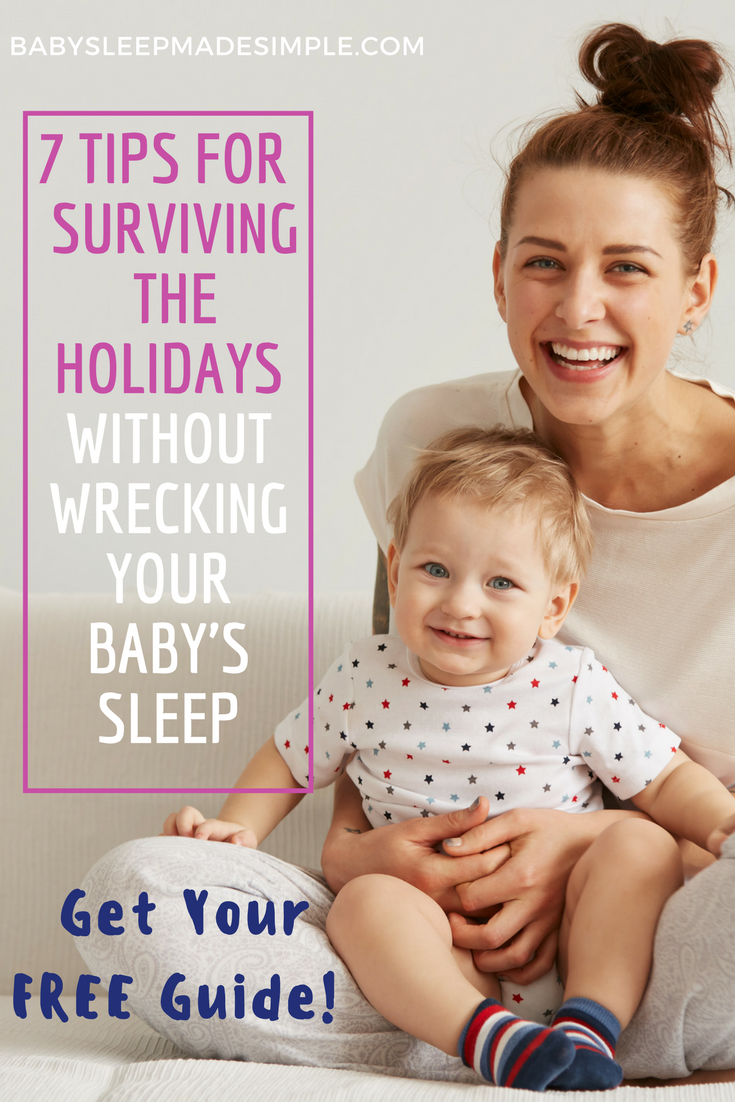 The holidays are here! Cue the Christmas music. ? ? I spent 34 childless years relishing in each holiday season. Christmas cookies, boozy work parties, sugar-laden coffees, picking out special gifts for loved ones, stuffing myself silly at Grandma's, time off work and….sleeping in.
But after having my daughter, I can honestly say that the holidays are so much better with a little munchkin to share them with. The magic of the season shines brighter when you see it through the eyes of your child.
I also know that it's hard to see any magic when you're exhausted from travel and crossing time zones with a cranky baby. When every visitor or holiday gathering means another wrench in your baby's sleep schedule. The good news is you can have it all (well..sort of.)
My 7 Tips for Surviving the Holidays Without Wrecking Your Baby's Sleep will help you balance the chaotic fun of grandparents and parties, while still prioritizing your baby's sleep needs.
Tip 1: First and Foremost…Enjoy Yourself!
You don't need to miss out on every opportunity for fun because your baby "should be sleeping." It's the holidays! And if you love them as much as I do, you'll want to indulge yourself a little (which you should, because you deserve to!)
Make a point to prioritize Mom this holiday season. And by that, I mean YOU! Carve out regular little moments to treat yourself. What you do is up to you, it doesn't have to take a lot of effort. Most Moms I know feel like they've won the lottery just by grabbing a Salted Caramel Latte and gawking at Pottery Barn. Or catching up with girlfriends over a Christmas lunch.
So if you get invited to a party, holiday lunch or even Christmas shopping with a friend, resist the urge to decline straight away. Give yourself permission to have a little fun. Before you know it, it will be a cold, bleak January day when you "should" be dieting…
Tip 2: If a Holiday Invite Is When Baby Should Be Napping
If the timing of an invite is inflexible and falls right when your baby should be napping, prepare baby for a nap on-the-go.
Here are some options:
A. Leave early and allow baby to nap in the car.
Just make sure baby gets his normal nap length. So if baby normally naps for 45 minutes, but your drive is only 15 minutes away, you'll need to drive around a bit or find a quiet parking spot where he can have his full nap before the fun begins.
B. Arrive early and get baby down for a nap in the stroller.
If your baby is used to napping in the stroller, this is a great option. Walk him around outside so he gets nice and drowsy and falls asleep. Then cover his stroller with a SnoozeShade and park him in a quiet corner of the room while you nibble & gossip with friends.
C. Wear your baby while you hang out with friends.
Babies who have trouble relaxing and sleeping in public can be worn in a Baby Bjorn or Ergo baby carrier. The beauty of this is you still have two hands (to stuff your face with ? ) and babies often nap longer in a baby carrier.
D. Other Helpful Advice
Don't worry about the typical advice of encouraging baby to nap at home independently. The holidays are a time for bending the rules.
If your baby doesn't nap well (or at all) on-the-go, make sure he gets his morning nap at home before you go out. The first nap of the day is emotionally restorative and the most important nap (if you have to pick.) If he skips his afternoon nap (or has a tiny cat nap) put him down earlier that night for bedtime.
NEXT:
How To Manage Baby's Bedtime over the Holidays >>
Watch Jilly walk you through surviving the holidays here…
This post contains affiliate links. When you click an affiliate link, I may receive a commission. This is at no extra cost to you. Please know that I carefully select & recommend products that I truly believe in. Read more about affiliate links here.