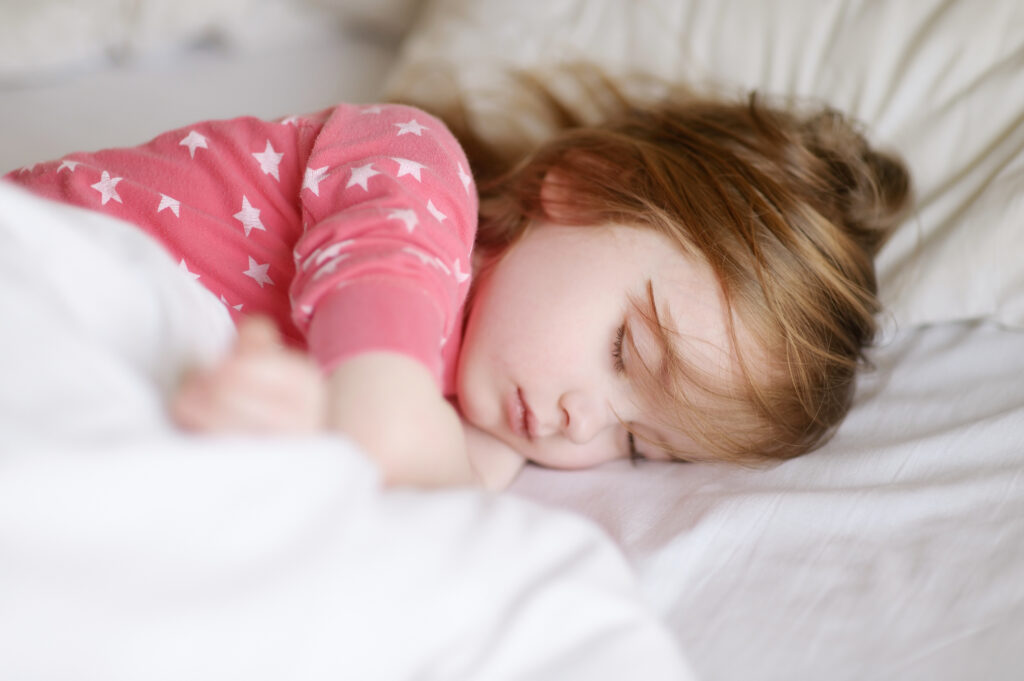 A toddler getting out of bed repeatedly during the night is a common frustration once you've transitioned out of the crib.
Your child's sleep boundaries have disappeared. So, it's normal for your toddler to wander out at bedtime or during the night to see what she may be missing. Just because it's normal doesn't mean it isn't frustrating or tiring, though.
I always advise parents to leave their toddlers in the crib as long as possible, because once you remove their boundaries it can be difficult to keep them from roaming. There's nothing wrong with a 3 or 4-year-old continuing to sleep in a crib if everyone's happy.
Find out when and how to transition your toddler from a crib to big kid bed here.
Encouraging your toddler to stay in bed all night does take effort, but it can be done. As with all aspects of teaching children to sleep better, your biggest determiner of success is your consistency.
This post may contain affiliate links.
It's a good idea to move your child into a big kid bed if:
You're beginning nighttime potty training

Your child verbalizes that she wants to transition (AND is at least 3 years old)

There are repeated episodes of climbing out (this becomes a safety risk)
[Important Note:] If a new sibling is on the way & will need a crib… BUY ANOTHER ONE!
This will save you so much stress & headache, trust me.
Keep both children "contained" for sleep as long as possible.
Here are some proven tips to keep your toddler in bed at night.
Important Note: If your child is younger than 3 and climbs out of the crib once, I wouldn't move her to a big kid bed right away.
Explain that it's not safe and she may hurt herself. Tell her that Mommy will come to her if she calls out in the night. (And put pillows on the floor beside her crib.)
Maybe she'll be "scared straight" for a while which buys you more time.
If she continues climbing out, then it's time to transition out of the crib.
Nighttime roaming is a particularly stubborn phenomenon. With the right approach and a few weeks of consistency, though, your child will understand her new limits and stay in bed all night.
If you try an approach for only a few days or you occasionally give in and let her come into your bed, then the nighttime roaming will probably continue.
You should use these tips to keep your toddler in her bed during nap time too.
Find out more about how to get your toddler to nap well here.
How To Keep Your Toddler From Getting Out of Bed Repeatedly at Night
First: Investigate any Bedtime Fears
First, I recommend exploring the topic with your child during the day to find out if she's afraid of anything at night.
If so, you can help calm her fears and reassure her that Mommy and Daddy are always nearby. Tell her that you'll come to her in the night if she calls out, rather than her getting out of bed.
Let her know that there are no such thing as monsters in her closet (for example.) Have a look at her books and the TV shows she watches to make sure they aren't contributing to her bedtime fears.
RELATED: How To Stop Your Toddler Waking at 5 am
Then: Let Your Child Know the New Nighttime Rules
Once the bedtime fears have been eased, it's now time to inform your toddler about her "new rules" for wandering.
Make sure to have this conversation early in the day, rather than at bedtime when she is tired and could be cranky. Keep it lighthearted and upbeat.
Let her know that you have a very special treat waiting for her each morning, when she stays in her bed.
A sticker, stamp, animal mask, trip to the park, 3 M&Ms (or anything from the Dollar Store) is usually enough of an incentive to reduce nighttime roaming.
Make sure to talk excitedly about her "special treat" each night at bedtime. And gently remind her of your expectations.
Tell her what a big girl she is, and how proud you are of her. Remind her that (her friend or cousin) also sleeps in a big kid bed and doesn't come out at night.
Let her know that IF she leaves her bedroom and comes to you, then you're going to take her straight back to bed. Be loving, yet matter-of-fact.
Many parents find success installing a baby gate at the bedroom doorway. Sometimes it's just too tempting to go to Mommy's bedroom, so a barrier really helps! When she calls out from the baby gate, you simply hop over and put her back in her bed.
Every time you have to do this, remember to stay calm and boring. Say very little except a rehearsed line like "It's time to go to sleep."
Any extra attention or conversation (positive or negative) could reinforce her roaming, causing it to continue.
Also, you don't have to run to her the minute you hear her calling from her doorway. The first night, wait 1 minute. The next night, wait 3 minutes. Add 1-2 minutes of waiting each night to encourage your child to go back to bed on her own. (And give lots of praise in the morning when she does!)
The next morning
Make sure to give lots of hugs, kisses and praise as her nighttime wandering improves. These are often more cherished than physical treats.
Don't dwell on failures. If she had a bad night, just say "That's ok, you can try again tonight. I know you can do it!"
With 2-3 weeks of consistency, your child's nighttime roaming should greatly diminish.