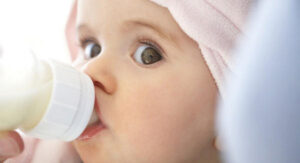 Determining when your baby can wean off night feedings isn't always easy. Your baby may be waking several times each night, and feeding is the quickest and easiest way to get her back to sleep. But you may be starting to wonder if she's truly hungry each time she wakes, or if she's ready to sleep longer stretches at night. How can you tell?
I've broken it down for you in my Weaning Night Feedings Guidelines. These will help you determine when it's appropriate for your baby to wean (or reduce) her night feedings. And if so, how to do it.
Step 1:
How old is your baby?
The first factor to consider when deciding if your baby is ready to wean off night feedings is his or her AGE. Check out the guidelines below.
Newborn-3 months old
Needs night feedings, but some can have a 3-5 hour stretch of sleep.
4-5 months old
Needs night feedings, but some can have a 5-6 hour stretch of sleep.
6-8 months old
Many can be night weaned. Others need 1 night feeding.
9-12 months old
The overwhelming majority can be night weaned.
13+ months old
Generally do not need night feedings.
You Ready For The Next Steps?
(plus a step-by-step video?)
In this detailed 3-step guide you'll learn:
Signs that your baby is ready to reduce or wean off night feeds
The essential checklist to determine your baby's readiness
What you can do during the day to help night weaning go easier
Pro feeding tips for distracted babies and toddlers
How to increase your toddler's appetite for solids
The best way to reduce down to one night feed (if your baby still needs it)
Night-by-night guide to wean off breastfeeding or bottles
The #1 thing that will get your baby sleeping through the night
A guide for protecting your supply so you can continue breastfeeding during the day
Get Your Weaning Night Feedings guide here.