Common 3 Month-Old Sleep Problems
(& Solutions!)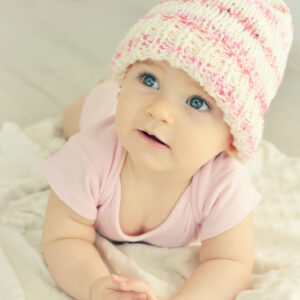 Can you believe your baby is already 3 months old? Seems like only yesterday she was a newborn sleeping 16 hours a day. She's well past the coos and gurgles of months 1 and 2.
She's now a "big girl" smiling, giggling, discovering her hands and becoming more social by the day. 3 months old is a common age for parents to start wondering about normal sleep patterns and how to avoid (or fix) sleep problems. You may already be worrying about short naps, frequent night wakings and/or if your 3 month-old will ever sleep in her own bed.
This is the perfect age to begin establishing healthy long-term sleep habits for your baby. This guide below will show you how! I've compiled the most common sleep problems for 3 month-olds along with steps you can take to get your baby's sleep on track. Plus I made this detailed video below that walks you through it all.
Video: How To Get A 3 Month Old Baby To Sleep Well!
Sleep Patterns for a 3 Month-Old Baby. What's Normal?

Total sleep in 24 hours
13-15 hours
Hours of sleep at night
9-11 hours
Appropriate Bedtime
7:30-9 pm
Nap Duration
30 mins – 2 hours
(Ok if it varies)
Time between naps
1.5 – 2 hours
*Not sure how much sleep your baby is getting? Get my easy-to-use, printable Sleep Tracker
x
x
Common Sleep Problems for 3 Month-Olds (& How to Fix Them!)

x

Important Note: If your baby is really fussy or colicky and the above tips have not helped after 1-2 weeks, then do whatever it takes to get some sleep. You can try again at 4 months old. You'll get there!
Is your 3 month-old baby having trouble sleeping? Reach out to us in the Comments Section below for advice from Jilly.
Want a Step-by-Step Guide on Avoiding Common Breastfeeding Problems & Building a Milk Stash When You Return to Work?
This info-packed, easy-to-follow online course walks you through all the essentials!
Learn pro tips for latching, positioning and pumping. Plus, how to know if your baby is getting enough milk.
Also, how to choose the best pump, increase your milk supply and introduce a bottle to baby.
And it has exclusive discounts on breastfeeding supplies!
Follow me on




This post contains affiliate links. When you click an affiliate link, I may receive a commission. This is at no extra cost to you. Please know that I carefully select & recommend products that I truly believe in. Read more about affiliate links here.